On August 12, we put our kids in a public school committed to socioeconomic diversity, where they are among the 6 percent of kids who look like them. It's going very well. They are learning how to speak Spanish while half of their classmates learn English. My kindergartener is adding, subtracting, and reading up a storm. My pre-kindergartener wants to be an "astronauta" and asks for, "jugo, por favor" (pronounced, "po-faloe" because no one is going to correct something that adorable).
So what are we learning, my white husband and I?
We are learning how to support the work of integration. We got on board with desegregation when we enrolled. Integrating is much…much harder.
I've been challenged by my friends to write about this year much like I wrote about our process in choosing a school.
That's tougher of course, because my instinct is to protect my kiddos. I don't want them paying for my soapboxes. However, I trust the teachers and administrators at their school enough to believe that they would not be doing this work if they didn't already know a lot of what I'm going to say. And they are top-notch educators who already love and care for my kids very well, whether or not they like me as a person.
So, here it goes.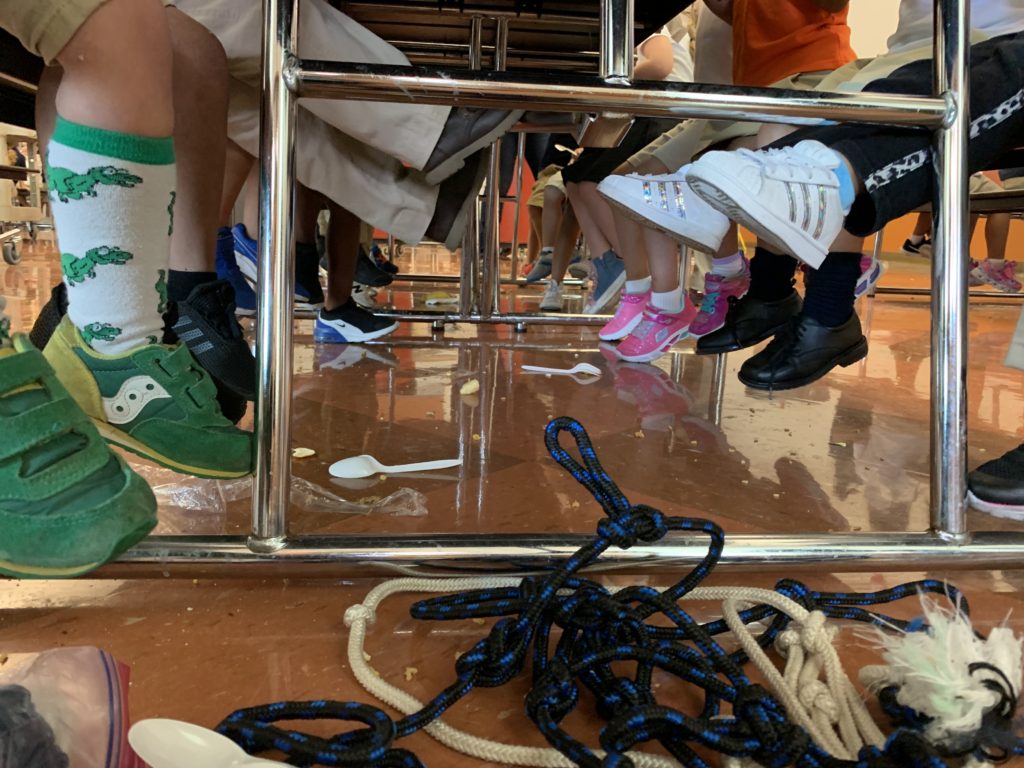 The Integration Diaries, part I
My kids already stand out racially at their school. Not only are we white, but we are white. Blonde hair, blue eyes, the whole bit. We are going snow skiing over winter break…in Utah. That is the whitest vacation on the planet. If you went into the classroom and made a few blunt, statistically-based assumptions about income, parents' professions, zip code, etc, you'd probably guess wrong for some of the kids, but not ours.
Knowing that, I was hypersensitive to how they would see themselves in their new school. How they would fit in until they found the right way to stand out (preferably with kindness and creativity).
This anxiety manifested in some slightly silly ways that are probably best seen as metaphors or object lessons.
When it was time to buy school supplies, I did my best to get the most universal version of everything. On Meet the Teacher night, I was pleased to see that our supplies did not stand out. Basic in the best way. Her blue, transparent pencil box looked just like about eight others in her class. The pink handles of her round-tip safety scissors were indistinguishable from the rest.
Which was problematic when we forgot to put her name on everything.
After the first day of school, my daughter let me know that she needed a new pencil box and scissors. She was also concerned about her hair—a mane of wild blonde curls worn loose and grown slowly.
Her teacher apologized and explained that, essentially, Moira's supplies, because we forgotten to write on them, had been taken as donations and given to other children. She had replaced what she could from the school's extra-supplies closet, but there were no more pencil boxes or scissors.
So not only had Moira stood out on her first day, but it was in that stomach churning way no kid likes to stand out…she didn't have the supplies she needed. She was conspicuously unprepared. Both her father and I would have pretty much melted on the spot as kids.
Except that Moira's stomach didn't churn. She wasn't mortified or anxious. She wasn't the only one without a pencil box or scissors. Her teacher didn't make a thing of it, the other kids didn't make a thing of it. She just wanted to know: did someone steal her stuff?
She was more bothered that her hair did not look like anyone else's in her class, and she, for the first time in her five and a half years, asked to change it. She wanted dark, straight hair that she could wear in a thick braid.
These two minuscule, very inconsequential issues set the tone for our year. They could have happened anywhere, but they didn't. They happened in the context of integration, which infused them with new meaning: We can be part of a system that works, because we belong to each other.
We learn to sort the world at an early age. Researchers have shown that kids recognize sameness and difference from their earliest days of cognition. Parents are constantly stymied by the various ways they decide to sort themselves as they grow. When I was in fourth grade we had major in-group issues over who brought Gushers vs. plain Fruit Roll-Ups. The haves and have-nots of the lunchtime economy.
We also sorted racially, economically, and by academic ability. Some of this was facilitated by the school itself, which was desegregated, but not intentionally integrated. Tracking, recommendation-based G/T testing, all those ways that schools internally segregate. The more empowered parents (whiter, wealthier) would request which teachers they wanted for their kids, and so they all ended up together.
(Shout out to my parents who did not do that.)
Beyond those mechanical means of separating us, we also just gravitated to what we knew.
We didn't encounter a lot of mixed-race settings outside of school, so we didn't recreate them in school. My anachronistically idyllic neighborhood was white. My church was white. My doctors were white and all the patients I saw in the waiting room were white.
Despite Hispanic students making up about 40-50 percent of the school, I did not have my first sleep-over-level Hispanic friend until 7th grade, and she was constantly catching grief from her friends about being "too white."
Placing our kids in deliberately, doggedly diverse settings doesn't stop them from noticing difference—their own or anyone else's. In fact, it brings it to the foreground much faster. Like on the first day of school.
So we had a talk about what matters.
What matters: kids having what they need.
Getting a new pencil box and scissors was not a big deal for us. In fact, it was a pleasure. We let Moira pick this one, and she went all in, as usual. Tie-dye pencil box and scissors with a soccer print. They stand out because they reflect her personality, her gusto.
She doesn't know who got her original box, but we were able to talk about the difference between sharing and stealing, and how we should always make sure there's enough in that extra-supplies closet so that no one has to go without. After all, how glad had she been that it was there when she needed it?
What matters: belonging.
On the matter of hair, I had to break the news that she would never have lustrous, dark, straight hair like her classmates. I could not braid it into thick braids. It barely holds a clip, and I have to use orthodontic rubber bands to make pigtails. But while she can admire their lovely hair, I pointed out, she also has lovely hair, and it is very special to me.
"You know, I'm glad you have curly hair," I said, "Because I do too."
She liked that. "We're like each other," she said with a smile.
(Cue Mom tears.)
She has not brought up the hair issue since. She often admires other girls' bows, braids, and shiny brown hair, but she also comments on how much she likes her own hair when it swoops over her forehead, or when the curls make complete spirals.
She feels secure, and so she is generous with others and herself.
Integration is not ignoring our differences. It's the opposite. By being different and staying together we can make sure everyone has a grip on what matters. Everyone has what they need. Everyone has a place to belong. Those same teachable moments are for the parents, the aspiring integrationists, as well.
What matters: economic justice.
We live in a world where some kids have no pencil boxes, some kids have cool pencil boxes, and some kids can run out and replace their pencil box whenever they need to. The growing gap between those who depend on the extra-supplies closet and those who stock it should not exist. But it does, and now that we know, what will we do?
Will we just re-stock the closet with our plenty, or will we fight for enough to go around in the first place?
What matters: representation.
I didn't worry that Moira would never realize she is beautiful. She is damn near identical to the standard of beauty that our culture has been promoting and celebrating for centuries. She'll figure out soon enough that her parents, grandparents, and random strangers aren't lying to her.
But those people in the positions to define what is "beautiful," "professional," "classy," and "appropriate" need to see beyond the Moiras of the world. She is one of a million ways to be beautiful. Our board rooms, marketing firms, artists, media producers, and decision makers should look like those million other ways, so that they recognize them when they see them.
Fitting in is a lot easier when you all exist in the same economic and racial America. You know the rules, you know the code. I often hear the pro-segregation argument, "people just like to be with their own." Birds of a feather. I get that: No one likes to feel isolated or alone in the crowd. But we can build a community based on more than economic and racial likeness. We can preserve the importance of those lived experiences without perpetuating the inequities that come alone with them. We can build society on more than Gushers or Fruit Roll-ups, who has, and who does not. I want my kids to know how to build a community based on what matters, and that's something that we are going to figure out together.