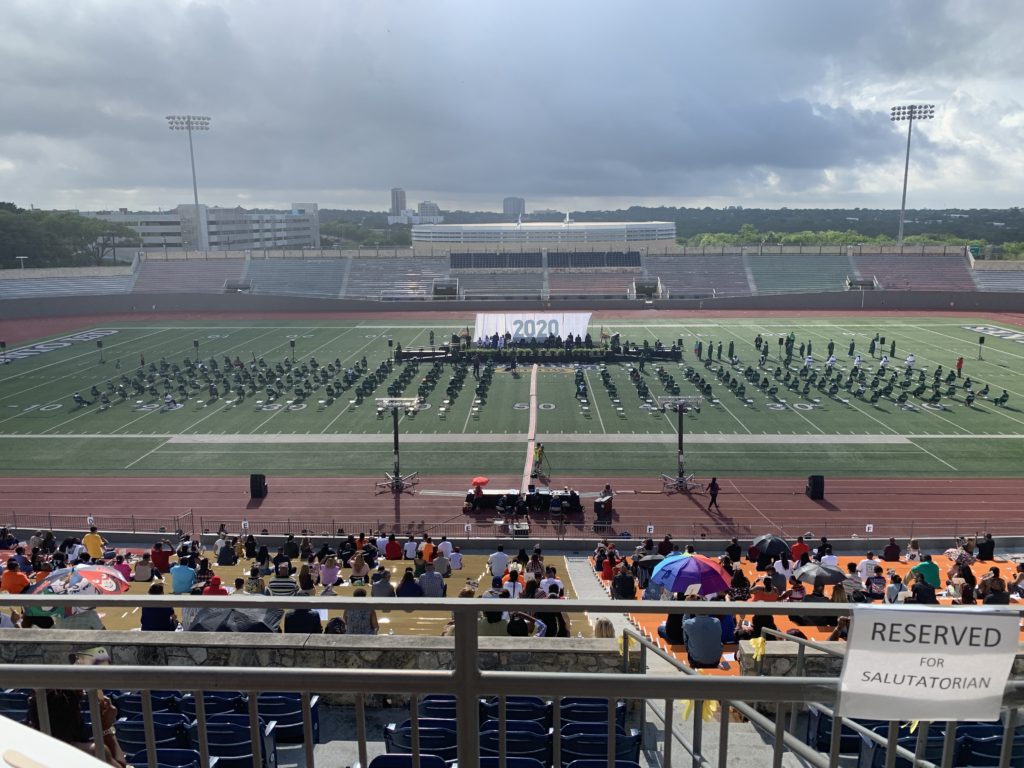 Then the Valedictorian called out the school's administration.
(This story has been updated with comments from SAISD Board President Patti Radle.)
The sun was just starting to peek out from around early morning clouds at 8:30 am on June 16, threatening to bake the 187 graduates from Sam Houston High School and their families. But things on the field, where the graduates sat in chairs spaced six feet apart, were already heating up.
As the national anthem played, not one graduate rose from their chair. They sat in protest of a country that they feel is apathetic to the needs and oppression of the black community. Their community. Their families. Their classmates.
"This whole racial (disparity) affects everyone," said graduate Devin Brock-Johnson, "It plagues every single system of life."
They decided that to sit through the national anthem would show that they wanted to see change.
Not everyone had to participate, graduate Jasiri Parks said, but from where he sat, he thinks that everyone did. An observer confirmed that the entire class remained seated. (I arrived shortly after the anthem.)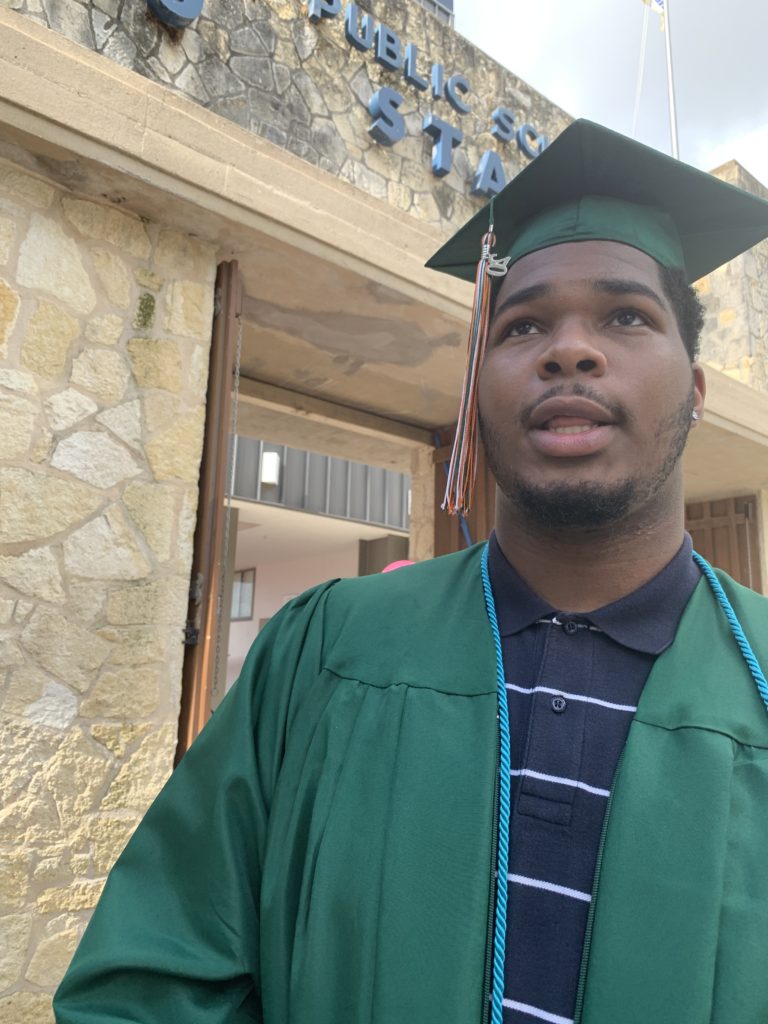 The graduating class at Sam Houston High School is 55 percent Latino, 40 percent black, 2 percent white, 2 percent Asian, and one percent two or more races.
"It just says something when every race sits down for it," senior Jonathan Lee said, "When every race sits down together we know we're in this together."
SAISD Board President Patti Radle, and trustees Art Valdez, Ed Garza and Alicia Perry took a knee during the anthem in solidarity with recent protests against police brutality and systemic racism. Radle and others have been doing so since the district's first graduation ceremony of 2020, Jefferson High School, last week.
"I just felt like being in a leadership position and representing the school district it was important for me to make a statement of solidarity with people who call for equality," said Radle, who suggested the action, but did not mandate it from board members, "I didn't want to impose on anyone, or grandstand on anyone." Garza and Valdez, a U.S. Air Force Veteran, were the first to join Radle in kneeling during the anthem at the Jefferson graduation.
Radle is no stranger to peaceful action during patriotic ceremonials. As a Christian pacifist, she has long observed silence during the Pledge of Allegiance.
"I believe that God is love, and in that Being there are no borders," Radle explained, "The only patriotism is to the call to love."
Radle said she had not been alerted to the students' plans at Sam Houston, though district officials say that several students at other graduations have also knelt during the anthem.
The students' action had been planned a month before, Lee said, as they were checking in with each other during coronavirus. Most weren't worried about getting in trouble with the school, he said, because that would have been small in comparison to what the students were protesting. "We were already in trouble the second corona(virus) came," Lee said.
Graduates also sat through the school's anthem, though many did raise their hands with the Sam Houston school hand sign, an index finger pointing into the air.
The reasoning for that action was articulated clearly by class valedictorian Payton Gogo, who used his time at the podium (min 39-42 in linked video) to call attention to what he described as educational negligence at his school.
The speech started softly, as Gogo praised the school's response to the pandemic, in providing laptops and hotspots. He then pivoted to a strong call-out, saying that it was unfortunate that "it took a pandemic" to elicit such efforts.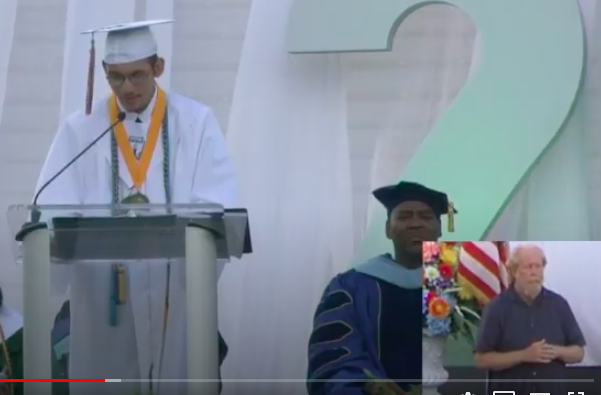 "It should be the school's mission to enlighten students and prepare them for life beyond high school. But this ideal can be difficult to reach for many schools, and Sam Houston is no exception," Gogo said, "Unfortunately it seems the education and guidance are not so important as long as the student passes. There is a great separation between the administration and student body."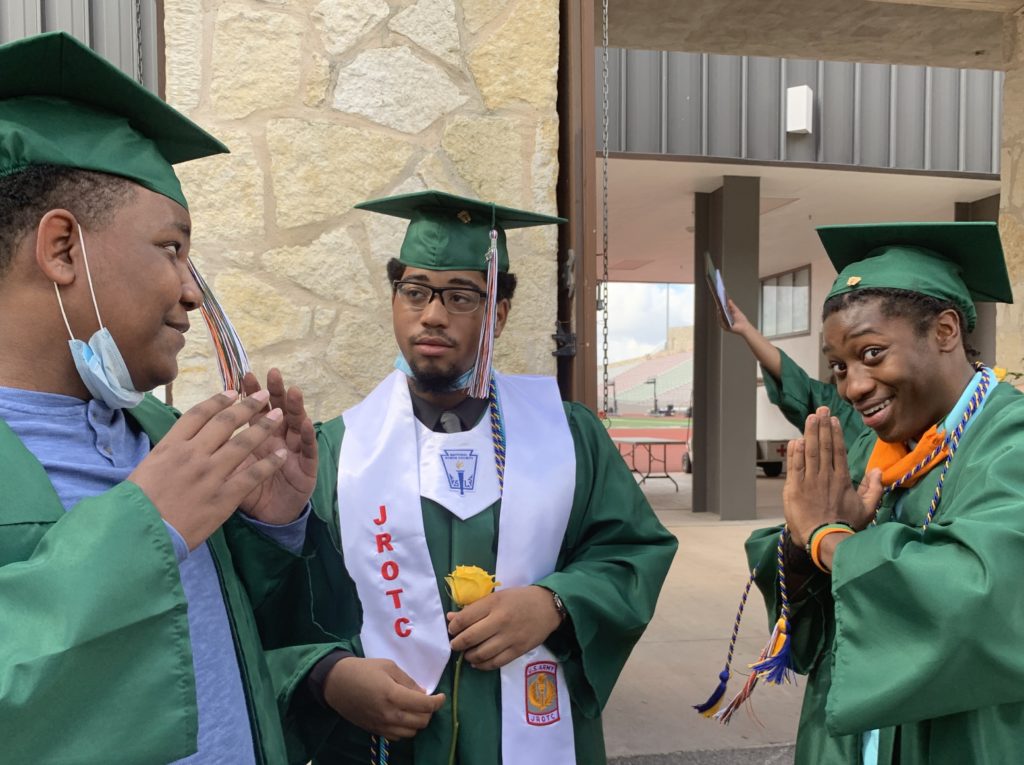 While some teachers had done their best to help students achieve their goals, Gogo acknowledged, "they are fighting an uphill battle against the administration's inability to solve the issues that plague Sam Houston."
Administration, he went on, has "disconnected from students" which has led to fights, drug issues, and various misbehaviors being largely unaddressed.
Around 9 percent of the student body was suspended or expelled from Sam Houston in the first three months of the 2019-20 school year, the 6th highest discipline rate in the district.
"The school's inaction is negligent at the least and students have been damaged by it," Gogo said. He went on to encourage his classmates to strive for success, despite how well or poorly they feel they were served in high school.
Parks, a member of the school's award winning decathlon team, said he agrees with Gogo's statements.
"It was really needed for them to hear that," Parks said.
Dezric Morgan, reflecting on the peaceful actions and sentiments shared by Gogo was hopeful that none would fall on deaf ears. Whether change came from the administration or another group of students is emboldened to speak up in unity, he said, "I hope everyone takes inspiration from this."