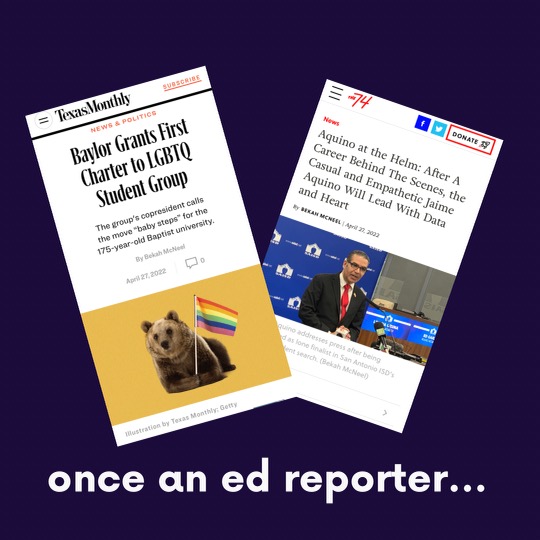 I've been writing about education policy for coming up on a decade, and it never ceases to amaze me.
In so many ways, I will be the first to admit I'm over-saturated on certain (still very important!) storylines. Charter v. district. Teachers v. admin. Parents v. admin. Test scores. Hear me clearly. These topics are important, and I'm not walking away from them. But ten years is a long time on a beat that doesn't change much, because the biggest scandals and controversies in public education are decades and decades old. In some ways I have felt myself drifting into historians' lane.
And then there are days, like today, when I'm reminded that as long as schools have our kids—shaping them, teaching them, steering them—there will always be incredibly important stories there, and those stories merit stamina. Religion, immigration, ability, race, gender, sexuality, privilege, and poverty all show up at school. Understanding a little about policy/funding and a lot about people can help us see the story behind the story.
Context, so often, makes the story.
In some ways, it was the oldest scandal in the book, segregation, that got me committed to education reporting. The ripple effects of Plessy vs. Ferguson convinced me education was a justice beat. And then there was the Texas Legislature, which convinced me education was a political beat. And then one day, working on a pretty mundane story about social and emotional learning, I realized there was a religion corner of this beat as well.
Today two pieces ran: In The 74 Million I wrote about San Antonio ISD's new superintendent Jaime Aquino. He is a lifelong educator, immigrant from the Dominican Republic, English-learner, and gay man. In a state where each of those pieces of his identity will inevitably intersect with some agenda from the Texas GOP, he's also greeted by a long line of parents whose children are entitled to special education services but have been constantly underserved.
Then, for the first time ever, Baylor University granted a charter to and LGBTQ student group, and the nuances and tensions in that charter speak to conversations happening well beyond the campus. Greater shifts within Christianity—both polarizing and centripetal—are manifest in the new group, Prism, and echoed through the campus conversations in which the decision was made. I got to write about all these intersecting tensions for Texas Monthly.
Education reporting can be exhausting to me, when I feel that I am squeezing stories out of slow, if even existent, change. But in context, it is a steady lens through which to understand so many facets of society, how we construct our villages, what we place upon our kiddos. Having done the basic work of understanding how school systems function, I often use them as a magnifying glass for the many ways our world functions. And that never gets old.