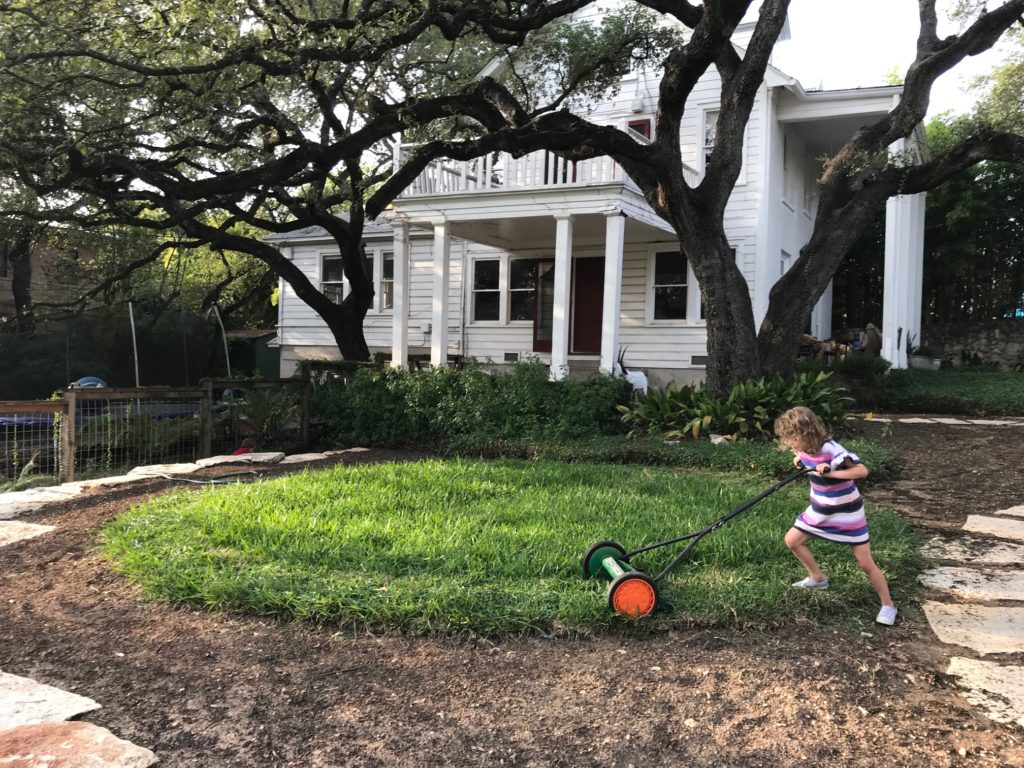 A local six-year-old stunned many last week by doing what, she said, "no six-year-old has ever done before, probably."
She mowed half the lawn.
San Antonio resident Moira McNeel said she'd taken on the task, "Just to see if I could do it. Not for fun."
Her father confirmed that the endeavor was, in fact, not a lark, but a serious undertaking.
"She took it upon herself to volunteer. She saw a need and she stepped right in and did what needed to be done," the father said, "I'm very proud of her."
By "need" her father means that he appreciated the help, though he maintains the work he was doing up to that point was perfectly adequate in quality. "I didn't take her desire to come help as a sign of criticism," he said, he was happy she wanted to give mowing a try, and even happier she asked so nicely.
Fortunately, the only mower the family has ever owned, a Scott's manual push-reel, posed little threat to her safety.
McNeel mowed for approximately five minutes, pausing only to direct her father to take photos for this article, and to alert the media, who was on the porch but, to her frustration, not watching the lawn-mowing.
All told, McNeel said, "I did a full swoop."
The McNeels' only patch of actual grass measures exactly 15 feet in diameter, so a little went a long way. McNeel was able to cut in straight rows with minimal missed blades between the passes. When she had mowed "enough," she said, "I was tired."
McNeel's father offered no further details on the current status of the job, and would only comment on the enthusiasm with which the child took up the task.
"I have never in my history of mowing lawns seen a little girl mow a lawn so well," McNeel's father said, "Or with such zest."
Disclosure: Moira McNeel is a primary source of joy for the author of this article. Her father is also a financial contributor to the Hall Monitor blog and, according to Texas state law, owns half of it.