We the People (PART II): Ron, Alexandra, Lewis, Elliott, Becca, Rex, Lee, Kelly, Madisyn, and Bria
We the People (PART II): Ron, Alexandra, Lewis, Elliott, Becca, Rex, Lee, Kelly, Madisyn, and Bria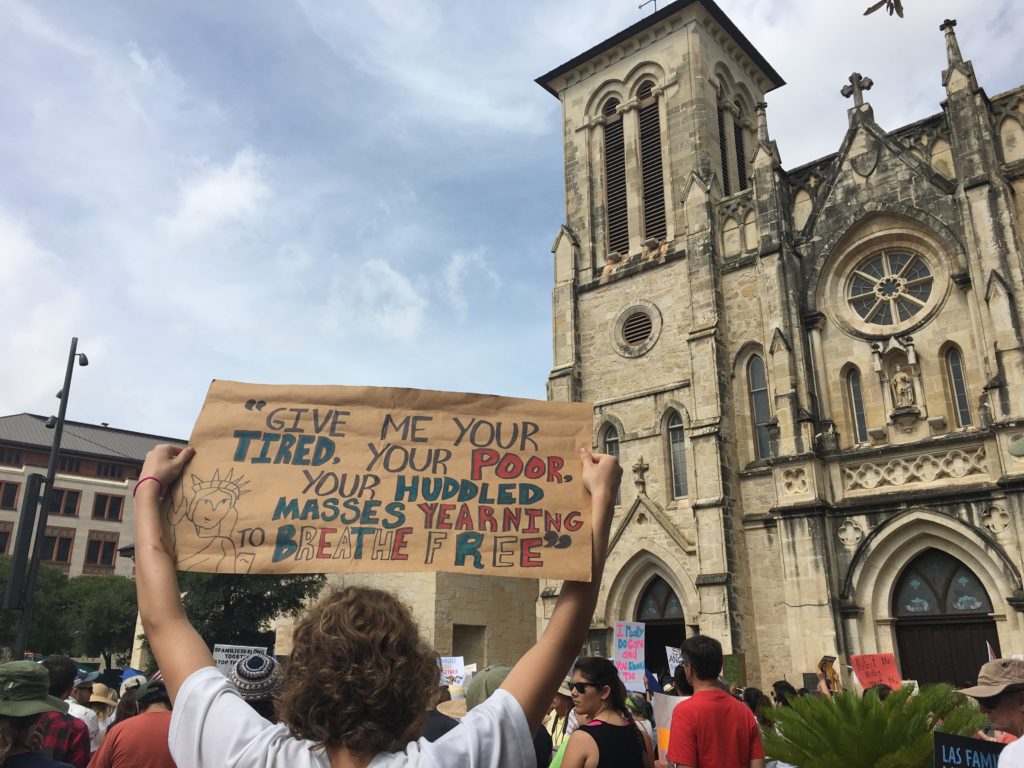 As we waited for the July 9 March For Our Lives "Road to Change" event to begin, I was chatting with Ron Smith, a local man who has found himself becoming more and more politically active—not just about guns, but about everything. While his attitude used to be more "live and let live," he said, "I just can't do that anymore." He has to speak up. 
A lot of people seem to be where he is.
When a mom sees babies taken from their parents at the border; when alumni see their alma mater by the light of tiki torches; when the target of a hate crime looked, worshipped, or loved like you, it's not political anymore. It's personal.
In the days before their campus walkouts, back in April, I asked March For Our Lives San Antonio organizers Alexandra Brkic and Sophia Mendez when they reached that tipping point into activism. For Brkic, who identifies with the LGBTQ+ community, it was the Pulse nightclub shooting. For Mendez, seeing the Parkland students emerge from the aftermath as activists empowered her to "get off the couch and do something" about her own fear.
For my own husband, who hates politics and visibly vacates his body when it comes up at dinner parties, it was Charlottesville. We were on a family vacation when white supremacists rallied in the city where he'd been a student at the University of Virginia. It hit him in a sensitive spot, and he wrote a Facebook post (linked to an investigative VICE video) so unequivocally blistering that our abbot called to check on him.
On the day of the Families Belong Together rallies, June 30, my social media feed was full of first-time protestors—moms,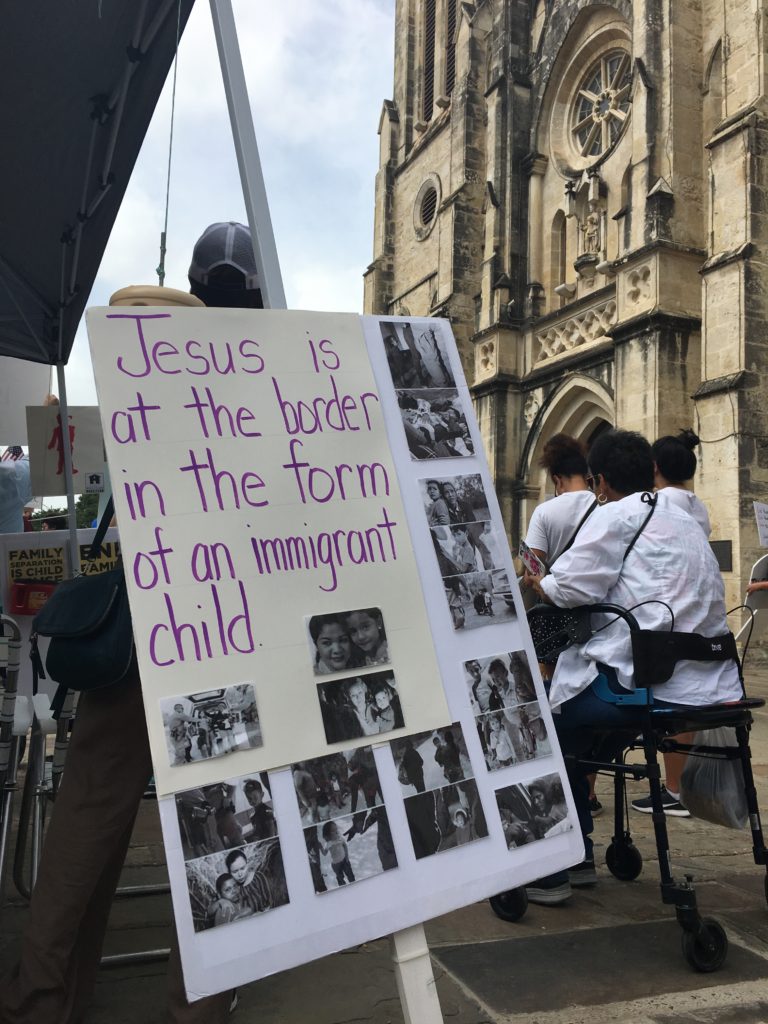 families, teens, Republicans.
Two caught my eye. On Instagram, our friends Elliott and Becca Garber were rallying in Charlottesville…with their four kids, one of whom was two weeks old.
Below the picture of her children holding a sign that read, "What would Mister Rogers say?" Becca wrote, "I'll be honest, rallying and protesting isn't something we've done before, but both Elliott and I felt compelled to take action in this instance." 
The other post, from Facebook, was from my friends in Washington DC, Lee and Rex Daugherty. Rex stayed home with their son, another dad and baby. The moms went to protest.
I talked to Lee about it later. We grew up together, both in conservative homes. She was never terribly political, definitely not outspoken about it. She had always been able to respect differences of opinion on policy, she said. But for her, the election of Donald Trump was not about policy.
"We (elected) someone who was racist and sexist and against public schools. Those are all core tenants of myself as a human being," she told me. Lee is a public school teacher in Fairfax County, Virginia. She teaches diverse students, racially, economically, and culturally. She loves them.
In January, Rex joined the Women's March to represent their family, while Lee was miserably ill and pregnant. When the Families Belong Together rally was announced they agreed that it was her turn to represent the family.
"This particular issue has always felt so intensely personal as a mother and as a teacher," she said, "So many nights after I put my baby down I would just cry."
When Attorney Gen. Jeff Sessions pulled out a Bible verse to defend the policy, Lee, and many other Christians, sounded off, "As Christians to hear this administration attempt to use Bible verses to defend the policy was disgusting."
Her sign, at the protest read, "Do not oppress the widow, or the fatherless, or the foreigner, or the poor. – Zech 7:10"
My guess is that more and more people are going to feel compelled into activism as the Trump administration continues. Few may have an opinion on NATO or NAFTA. But many have strong feelings about justice, family, faith, morality, sex, marriage, safety, and health.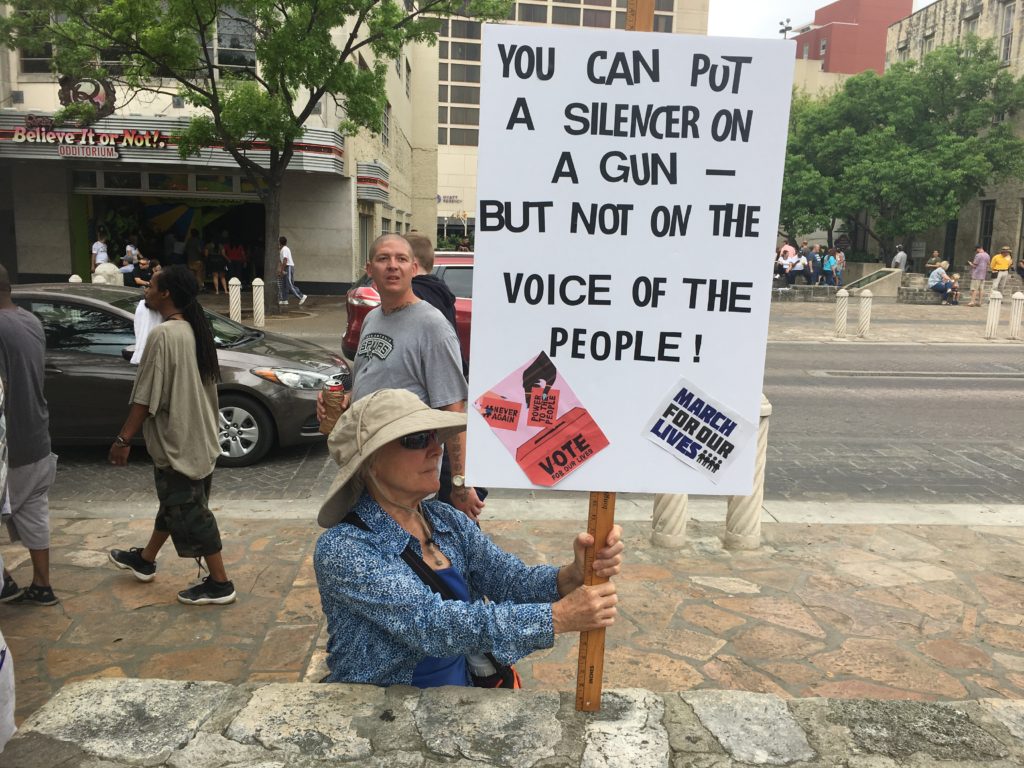 That's where it starts to get personal. And as it gets personal for each individual, and more people take to the streets, and family dinner tables get more tense than they already were, the teenagers on the "Road to Change" tour have some advice. (They didn't list it out like this, but these were my takeaways.)
First—dialogue wherever possible. 
Go in to listen, not debate, said Kelly Choi, a March for Our Lives student organizer from Houston, "Just because we're on different sides of the aisle, doesn't mean we're on different sides of the world."
The Road to Change town halls have been met with Open Carry counter-protestors in cities across Texas. One videos of activists from both sides engaging in civil (if heated) dialogue has been met with both praise and derision. The derision only proving that people on social media are 1,000 times worse than in real life.
Which is why face-to-face dialogue is critical, Choi reminded the crowd, "It's a human issue."
Second piece of advice—check your privilege.
I've now seen the students from Parkland on three stages representing March for Our LIves, and every time they have at least one representative from Chicago or Milwaukee with them.
A mass shooting is like a plane crash. It happens all at once and everyone pays attention. For students in neighborhoods where society has divested itself, shootings are like car accidents. They are frequent, claiming far more lives than plane crashes in a given year. And they rarely make the news.
On July 9, Bria Smith, a student from Milwaukee, offered a reminder that gun violence has been normalized for kids growing up in many black and Latino communities where a "gun is easier to get than a job," she said. The victims are often nameless in the news reports, she said, and the shootings chalked up to gang activity, whether or not the victim or their killer were members of a gang.
It's an effort to rationalize the violence (which makes it less scary for outsiders) without truly understanding it. Gang violence exists as well, she said, and the lives caught up in that should not be so handily written off. Many are living in desperation.
I was reminded of the students from South San High School who spoke at yet another town hall months ago, advocating for police officers to be replaced with mental health supports. Their school felt militarized, they said. "Gang members are some of the most stressed out people I know," Madisyn Donavan told me that evening.
Smith echoed this sentiment. All of the investment in school safety ends up making the students feel like they are being protected from themselves. Like they are the criminals.
Such dehumanization, Smith said, becomes internalized by the community, and they begin to live in fear and despair.
She's seizing the moment when people are finally listening, and reminding the crowds that the beginning of their activism cannot be the end. That for every Parkland, there's a Milwaukee. For every detained asylum-seeker, there's a DACA recipient about to lose life as they know it. For every moment that brings people out into the streets, there's a long road ahead.