#walkoutroadtrip: Dispatches from a suburban full of teenagers going to petition the Lt. Governor
#walkoutroadtrip: Dispatches from a suburban full of teenagers going to petition the Lt. Governor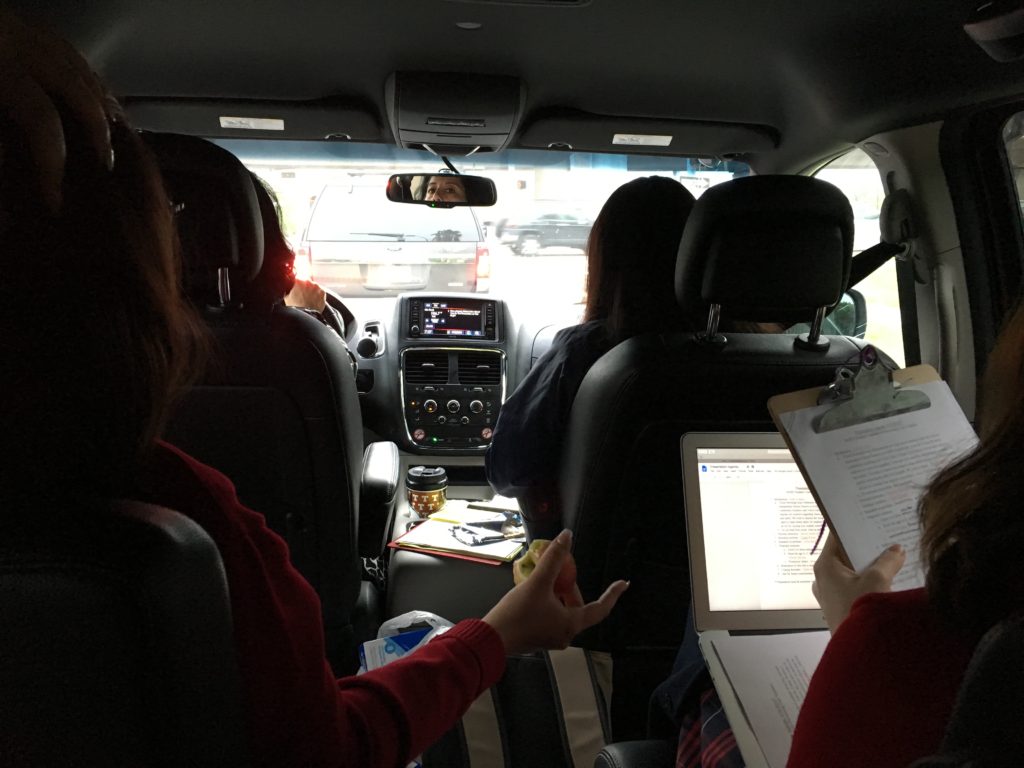 Today, I'm literally taking backseat to a group of students who, I am sure of it, will one day appear on a ballot. These young leaders already inspire me with their candor, intensity, and immunity to bullshit.
Their principal, Delia McLerran, arranged for the students to meet with representatives from Lt. Gov. Dan Patrick's office to discuss any possible future for gun reform legislation. They've been prepped by State Rep. Diego Bernal. They're classmates have sent a wave of letters ahead of them. Now all that's left is to go. To participate. To speak up, and see first hand how the process works…or doesn't work. Whatever they come away with (and they are realistic about what they expect that to be), they will no longer be bystanders, those who complain about the system without trying to change it.
I'm riding along to live-Tweet it. ( @BekahMcneel  )
While I'm thrilled to be going along with these Valkyries, I'm a little sad that at I'll not be there to watch the walk-out at Churchill High School, where I've been following student organizer Sophia Mendez as she plans for this day.
Today is the day they've been waiting for, and school walkout organizers are nervous. At 10 am (or some time close to that) students around the country will be walking out of class to protest gun violence and the lawmakers they see as enabling it to continue.
In North East ISD, much of the organizing has happened underground. When word of potential walkouts first spread, the district sent out a statement, saying in no uncertain terms that students who walked out of school would face appropriate consequences of unexcused absence.
"While we understand that people are passionate on all sides of the issues stemming from the events in Florida, we cannot allow students to disrupt the learning environment during school hours," the statement read.
The district policy has hamstrung some school administrators who seemed to want to work with student organizers, said Alexandra Brkic, one of several organizers at the Lee High School campus, which is home to three magnet schools, each with its own administration.
Students from all four schools met with administration, and Brkic was encouraged that they seemed supportive. "They seemed really willing to help," she said.
An hour or so later, she said, the tone changed. They had spoken to district administration, and now, "it was more so them deciding what we could do instead of students using their voice."
Neighboring Northside ISD did not issue a similar statement, superintendent Brian Woods said, in part because of that very thing. He wanted campus leadership to make decisions that fit their campus. "We try to hire really good people," he said, so they can make these kinds of decisions on their own.
San Antonio ISD also took a campus-by-campus approach to students who expressed interest in the protests. Which is why I'm in a suburban with Delia McLerran and a handful of high schoolers.
I wish I was going to be there to see the final product of the Churchill walkout planning. Like many around the country, it illustrates the eternal activist's dilemma: when to accommodate and when to defy authority.
When weighing disruption vs. impact, students have made different choices.
The Churchill walkout is sticking as close to the national template as possible. They will walk out at 10 am, wearing orange and holding signs. Their compromise is silence. Organizers feel that the administration is looking for reasons to crack down on the walkout, and they don't want anyone to say things in the heat of the moment that might give them the opportunity, or fuel the anger of those opposed to their entire cause.
They plan to use silence as strength, refusing to respond to any heckling. They'll take whatever consequences come from their unexcused absence.
For ambitious students, they have a lot to lose. The vocal support of universities has made a difference Mendez admitted. "I don't know that I would be doing this if I didn't know that so many colleges were okay with it."
At Lee/ISA/NESA/STEM, the walkout will happen at 10:15 so that the students are counted present for the day. They know that attendance is important to school funding, Brkic said, and they don't want teachers to suffer in any way. By this point in the year, she added, some students can't afford absences either.
Actually, Brkic said, her group is very aware that not all kids can walk out. Their immigration status, probationary status or other factors may increase their risk if the police do become involved. "It's a privilege to do it," Brkic said. For the sake of those students she's happy to see such widespread discussion. For those who can't afford the risk, she said, "educating yourself on this topic is enough."