This is not a drill: SAISD students go to Austin to begin a conversation on gun control
This is not a drill: SAISD students go to Austin to begin a conversation on gun control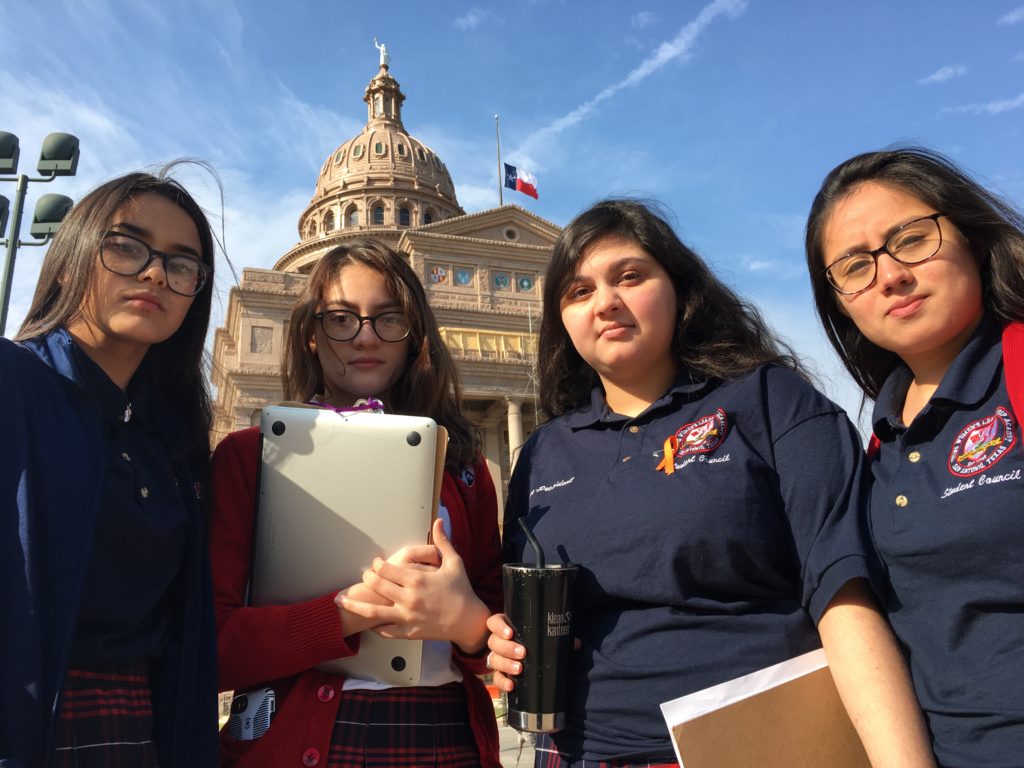 Sitting in the Capitol hearing room reserved for their day of meetings, I watched the five students from San Antonio ISD's Young Women's Leadership Academy and seven from Travis Early College High School settle in behind the dais. The seal of the State of Texas hovered over them as they swiveled in the cushy chairs and tested the microphones.
To myself I thought, "This is not the last time I'll see them here."
They were nervous, but ready. Intense, but not off-putting. Self-assured, but not overly self-conscious. 
San Antonio ISD legislative coordinator Seth Rau, their guide for the day, encouraged the students to think of their April 20 meetings as the beginning of a long conversation. Regardless of what you want to accomplish, Rau explained, legislation takes time. With that, Rau, YWLA principal Delia McLerran, and Travis ECHS teacher Cassandra Vara sat back and let the kids take over. 
"These are your meetings," Rau said.
The meetings that followed gave the teens a taste of how things get done (and don't get done) at the Capitol. They met with staff from the offices of Rep. Ina Minjarez, Lt. Gov. Dan Patrick, and Rep. Dan Huberty. The full Texas-spectrum.
Each staff member gave strategic advice for moving their cause forward. Testify to the legislature. Bring data. Bring stories. Bring case studies. Don't let up.
In addition to their good advice though, the legislative staff members also served as a sort of laboratory, as the the students moved through their presentations.
The students were on point, without flinching, no matter what. They gave personal stories of the terror of lockdowns. They gave data, research, and reasonable solutions on background checks, loopholes, protection orders, campus security, and raising the age to purchase a firearm.
Their presentations were both moving and pragmatic. It was persuasion gold.
And not much happened. In that, there were valuable lessons.
They learned how to step in when a meeting detours, and minutes begin to melt away from the issue at hand.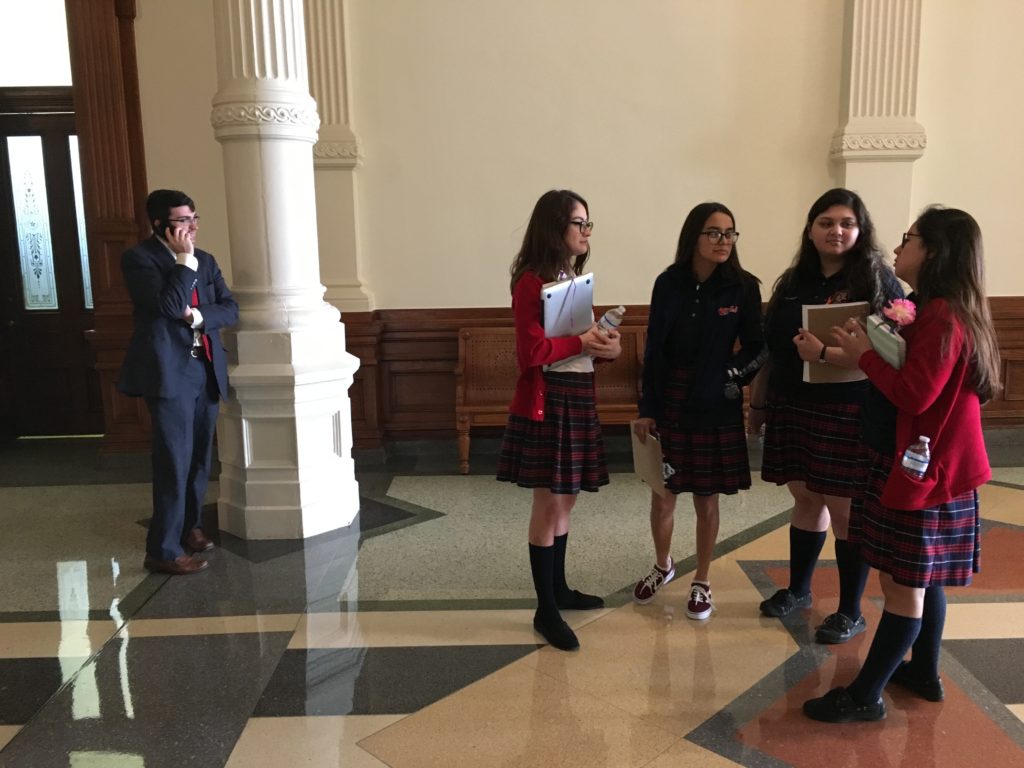 They learned the role of legislative staff. How to take the meeting you've got and use it to get to the ears you need.
While Rep. Diego Bernal had given them fair warning, they saw living proof of just how nice people at the Capitol are, and how that can throw you off your game if you only know how to debate. They learned that what stands in the way of progress isn't always vehement opposition, but sometimes amiable contempt. 
They saw the "pivot" in action, and successfully kept their issue on the table.
After every meeting, as they debriefed, they expressed frustration with how hard it was to get straight answers, commitments, and real statements on the issues.
They assumed it was because they were young.
It's not. It's because this is politics.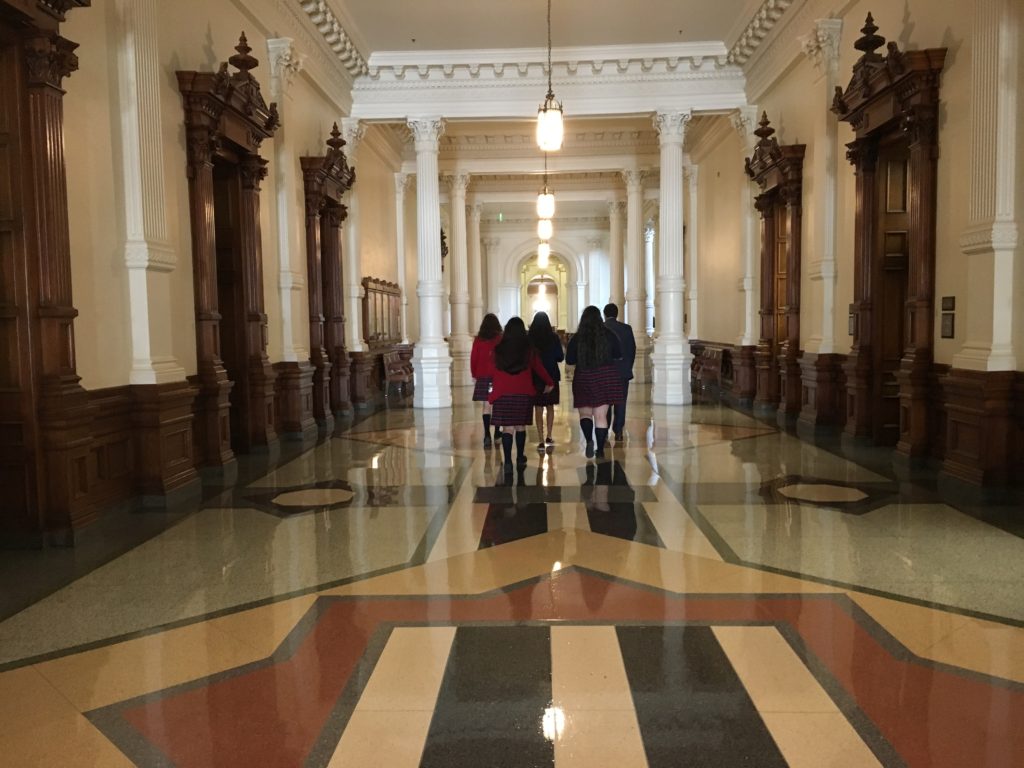 Which is why politicians, those very ones mentioned above and all of the others whose inboxes, phone lines, and town halls have been flooded with passionate teenagers would be wise not to underestimate these students, or misinterpret their goals.
I expect to see them in office one day, but that's me speaking, not them. 
They were not there to learn about politics. They were not there to rehearse. They were there to be heard. The insiders they met all confirmed that when the teens speak up, they have the element of surprise on their side.
"People don't expect you to be awake," said Nar Dorrycott, chief of staff to Minjarez.
One of the things the students found most stunning, the thing that actually lit the fire for them throughout a long day of talking, was the chit-chat before and after each meeting. The niceties and small talk that signaled, "we're not talking politics anymore."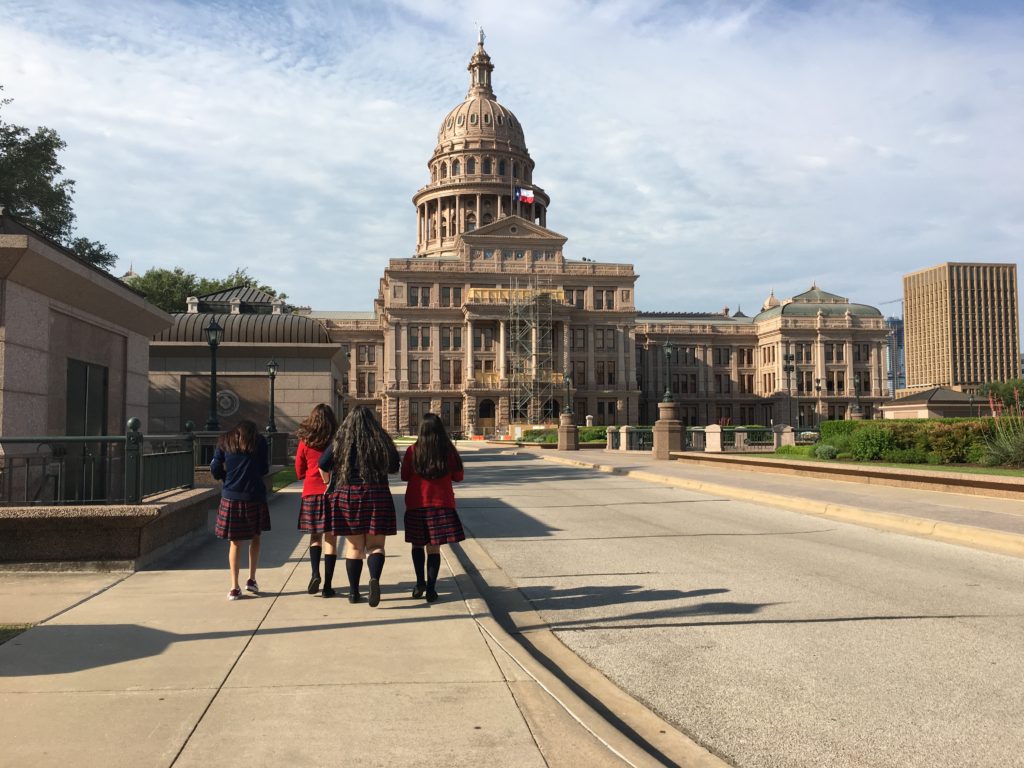 For career politicians, and the cottage industry surrounding them, politics is work. They are co-workers as much as they are adversaries, which carries expectations of professionalism and civility. I hear Washington has lost this. Some of the more strident Texas legislators appear to have lost their manners as well, but the State Capitol is still, on the whole, a pretty polite place.
But this debate—gun control—for these kids, is not a political exercise. They aren't here to be inspired, and they aren't looking for a way into the political machine. They named their march "for our lives" for a reason. These kids want to live on to be doctors, lawyers, engineers, biologists, and teachers. They see the glut of guns in this country as a threat to those ambitions. There's a laser focus associated with survival.
This is exactly the passion and focus that they have to sustain, according to U.S. Rep Lloyd Doggett, who spoke to the school walkout crowd on the steps of the Capitol that same day. If they want to see progress on gun legislation, they have to vote, and make it clear that their vote hinges on this issue. At a town hall earlier this month Doggett attributed the power of the NRA not just to its money, but to its singular, unrelenting focus.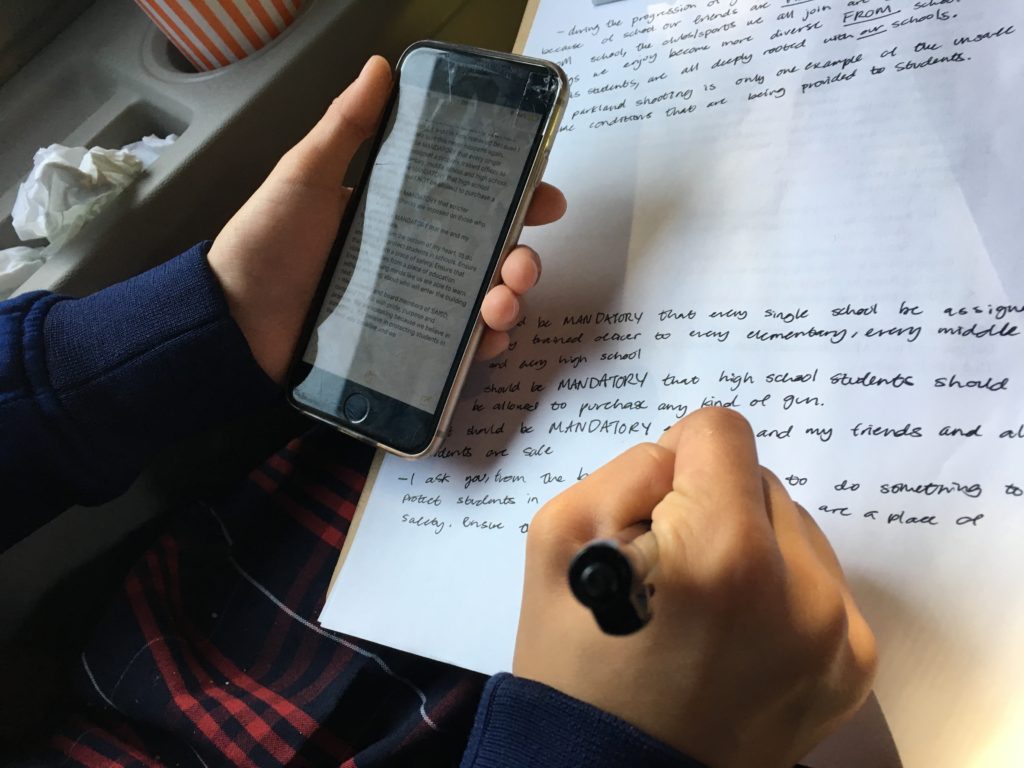 Creating a new voter bloc isn't easy. Few issues have the power to flip the primal switch that many people need to overcome their civic apathy. We will find out in November if gun control is one of those issues. If fear of being shot has as much juice as the fear of Communism, abortion, or LGBTQIA rights.
While the YWLA and Travis students weren't there to jump start their political careers, they were there to jump start their lives of civic engagement. The gun control movement, if it is to make any headway at all, needs to be dragged out of the realm of campaign donations and Constitutional debates, and into the lives of ordinary people. You need the people who don't throw out words like gerrymandering and fillibuster, but vote anyway.
The national day of walkouts served as a backdrop for the students' Capitol visit. Thousands and thousands of students without personal political ambitions walked out of class, many of them facing the threat of disciplinary action. Ordinary young folks, taking ordinary action, in mass numbers.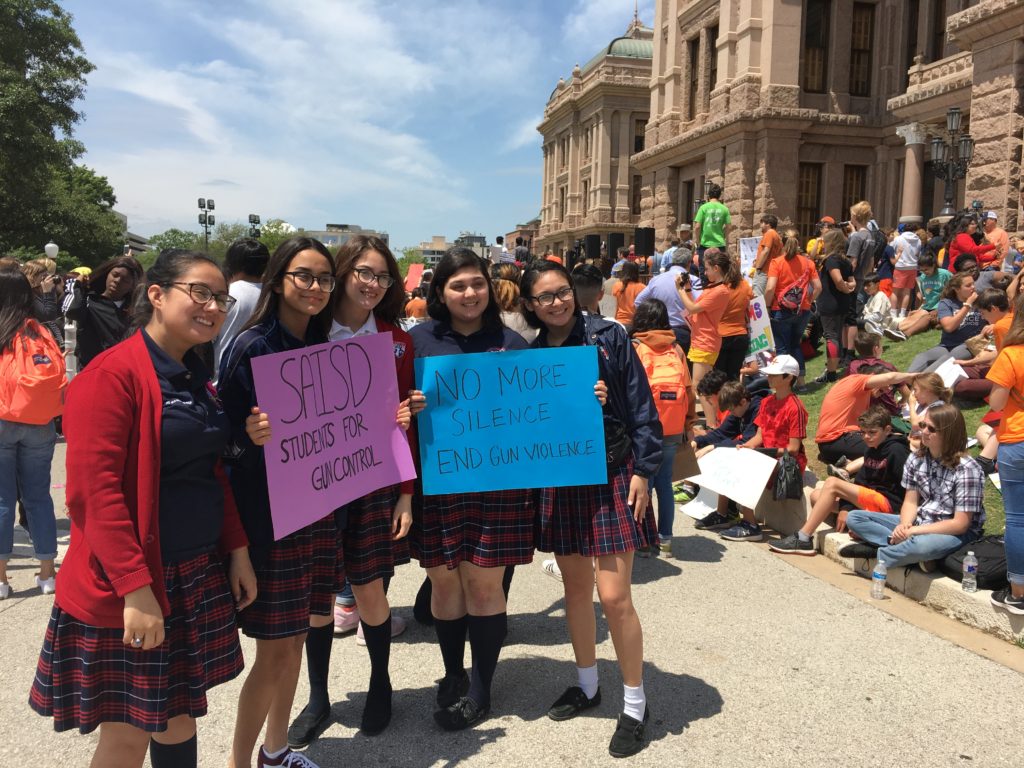 "I don't see students out of school," Rep. Eddie Rodriguez said, following Doggett at the rally, "I see engaged students."
The day in Austin showed the students what they were up against: a system that requires far more energy than any one person can sustain. It's a drip…drip…drip…kind of place, and it's where ideals go to die.
So it's either a marathon or a relay race, they realized. The YWLA girls looked to sophomore Thalia Revilla to take up the baton, while considering whether the seniors could plan to come back from college to testify before the Legislature next spring.  Either way, it's going to take some time, teamwork, and strategy if they want to be more than one more hashtag movement. It has to become a lifestyle.