South San students take the mic… and advocate for mental health services
South San students take the mic… and advocate for mental health services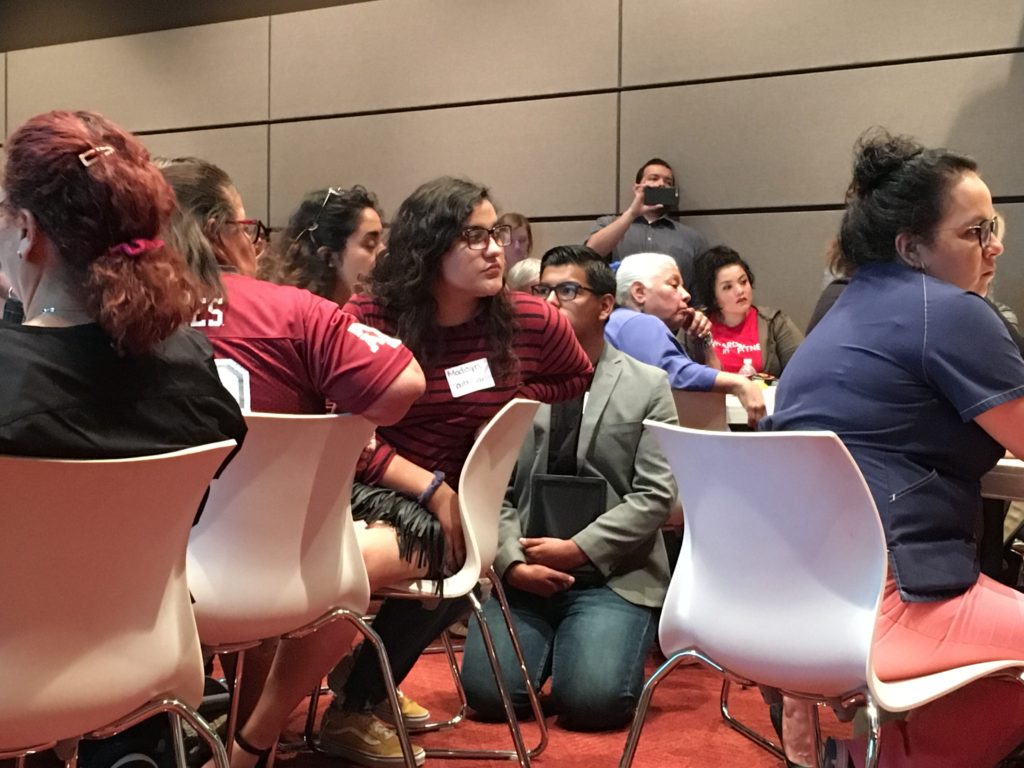 Madisyn Donovan has to go to Saturday school. The high school sophomore is enrolled in South San Antonio ISD's popular Early College program, and she's a member of the Enrichment Club—she's no slouch. Quite the opposite, Donovan is motivated. So motivated, that she takes a VIA Metropolitan Transport bus two hours across town to get the help she needs to succeed.
Members of the Enrichment Club spoke to a town hall gathering hosted by South San Kids First, a grassroots group that encourages parent and community involvement in the small district. The students seized the moment to address the lack of mental health resource for students struggling with social and emotional issues or mental illness.
This is not the first time that South San students have spoken boldly about the support they aren't getting. In 2016 then-senior Araceli Garcia told South San kids first that staff at the high school had tried to dissuade her from applying to Tier One schools in other states, saying that she shouldn't put that burden on her family. Garcia ultimately went to Stanford.
"I have hit many walls on the way to where I am now. They are walls that, as a student, I shouldn't be running into in any district," she said in 2016.
Donovan and her classmates described yet another of those walls.
Donovan suffers from clinical depression and anxiety, she explained after the meeting, brought on by abuse and poverty, something many of her classmates encounter as well. When she started to suspect that she needed help, she went to the South San High School guidance counselor. The guidance counselor is an academic position, not a clinical one.  She walked away empty-handed, except for a piece of paper with some local mental health resources. The two closest to her South Side neighborhood, she said, had prohibitively long wait lists, and most of the clinics around town close at 5pm, so her dad doesn't get off from work early enough to take her regularly.
So, she takes the bus. VIA being what it is, the journey takes two hours to the medical center location where she could get in to see a therapist. She has to leave school. The doctor's note will keep her from truancy charges, but it won't keep her out of Saturday school, or other attendance penalties. When she had an anxiety attack in the parking lot on her way into school one morning, she got in school suspension for skipping class.
The entire atmosphere on campus is more punitive than helpful, Donovan explained, "There are more cops than counselors at our school."
Several others at the town hall brought up the heavy police presence, wondering if that was the best use of funds for a district facing a $6.6 million budget shortfall in the face of declining enrollment. The district says it's a safety issue.
"A few years ago (the increased police presence) was a reflexive reaction to Sandy Hook," Councilman Rey Saldaña explained.
The students have a different idea for keeping them safe: mental health. If they traded some of those police officers for mental health professionals, Donovan said, they might get better results.
"A lot of kids are being arrested," Donovan said, "But they don't ask 'are you okay?'"
If they did ask, Donovan said, they might find that gang members are often stressed out. They joined gangs to take care of their families…now they feel trapped. If someone asked "are you okay?" they might hear from her LGBTQIA friends who feel alienated from their family and nervous about being outed in class.
"People think that now that gay people can be out in the open this it's easier to come out," Donovan said, "It's not."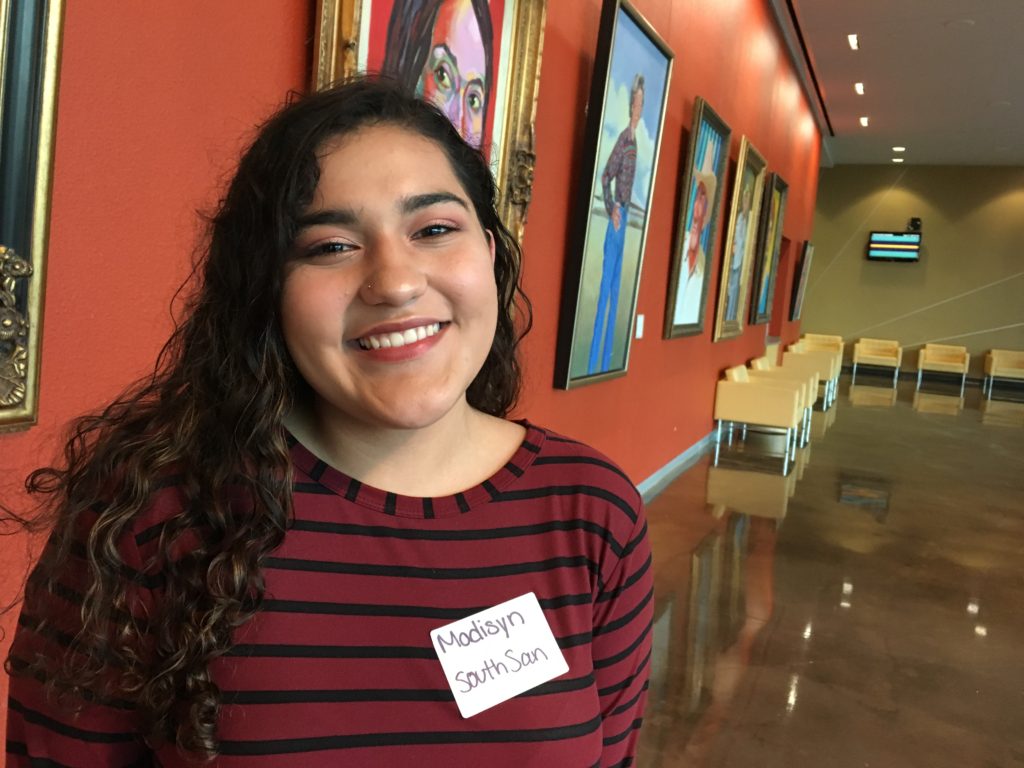 If people asked, she said, they might realize that another classmate of hers isn't just another "at-risk" dropout statistic, but a young woman battling such severe depression that getting out of bed is often all she can do in a day.
The help that Donovan finally found is clearly working. Despite her anxiety, she stays poised and direct. She, like teenagers around the country, is claiming her voice, and advocating for what she needs. And as often happens in conversations with these students, it doesn't take long for Parkland, Florida to come up. But instead of guns, Donovan is talking about mental health.
She is convinced that if someone had intervened in Nikolas Cruz's troubles earlier, then lives would have been saved. It's not an excuse for what he did, she said, but a critical piece of a complicated puzzle.
Politicians have brought up mental health as well, but students are calling bullshit more and more on robbing-Peter-to-pay-Paul approach to their safety.
Inspired by the survivors of the Parkland shooting, students like Donovan are changing the tone of these conversations. Lip-service is not allowed. Mental health is not a compromise or a distraction for the South San kids, the way it is for many politicians trying to avoid the gun debate. For them, it's about a wider scope of justice.
They are angry, rightfully, and "it's pretty awesome to see it translated (into public advocacy)," Saldaña said. He was struck watching them seize various moments throughout the night to advocate for what truly matters to them, with no coaching or nudging. "If there's no forum that exists, they're creating it on their own."