RootEd wants parents to bloom in the diverse gardens where they are planted.
RootEd wants parents to bloom in the diverse gardens where they are planted.
Founders of the pro-public school group say opportunity hoarding, not school choice, is what they are really up against.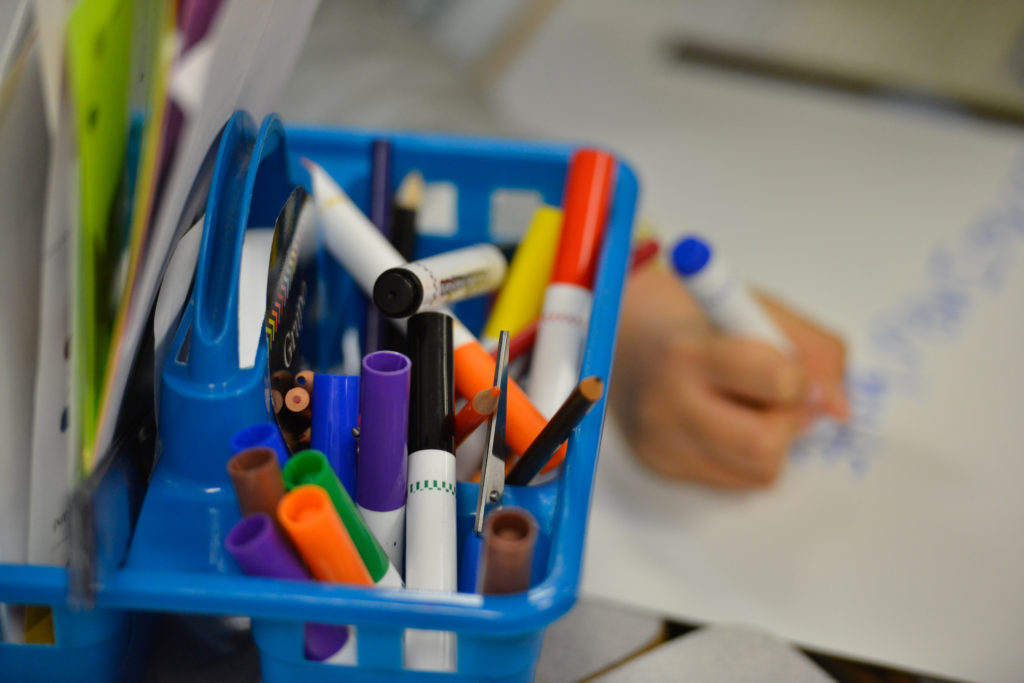 It speaks to the success of the grassroots public school advocacy group "RootEd" that I had been wondering who they were for some time before we met. Their posts and hashtags sprinkled my Twitter feed, and I had seen an occasional yard sign while driving around the North Side of San Antonio. People were asking me if I knew them, and I was increasingly embarrassed to say "no."
So, I reached out to learn more, and learn more I did. The five North East ISD parents who founded RootEd— Genevieve Sugalski, Cameron Vickrey, Jeff Jackson, Cristy Burguete, and Terri Pease— agreed to meet with me over coffee and talk about their mission to celebrate public schools. However, it didn't take long before we ventured into school choice, privilege, and the coded words people use when they talk about public schools.
Because, as they have discovered, the moment you take a bird's eye view of public schooling in America, those issues all become abundantly clear. Suddenly you see the underlying logic everywhere you look.
But first: how did it all get started?
"We all really love our schools," said Pease, a part-time volunteer administrator with her church, "People kept not going to the neighborhood school."
When asked, those people weren't necessarily leaving because of what they had experienced, she said. They were leaving because of something they had heard.
For what it's worth, Northside ISD superintendent Brian Woods once said, "If (families) leave because of a negative experience, that's on us." He doesn't think that's what's driving the decision to leave in most cases.
Pease's son goes to the magnet program at Krueger Middle School, a Title One school in North East ISD. Burguete's older children go to Jackson Middle School. Three of the RootEd co-founders send their kids to Oak Meadow Elementary, one of the elementary schools that feeds into Jackson. Oak Meadow is slightly more affluent than the district as a whole, with one-third of the students qualifying for free and reduced lunch. It's right in the range that middle class parents consider happily diverse. Kids will be exposed to peers with different backgrounds, but the low-income percentage is low enough that the adverse effects of poverty do not define the school.   
Jackson Middle School is a different story. More than two-thirds, 70 percent, of the students at Jackson qualify for free and reduced lunch. Parents hear rumors. Many Oak Meadow parents have no plans to continue on to Jackson.
Hearing these things, Burguete looked for a valid response, but the only counter-narratives she heard were prefaced by the word "actually."
"Actually, Jackson is pretty good about…."
"Jackson is actually highly ranked in…."
What's up with the "actually?"
She knew. "Actually" meant that even though the kids were poor, the school performed well on state tests, the campus felt safe, etc. "Actually" in this case was a sideways glance at the low income kids. She talked to Pease who was hearing the same things.
Because she lives in America in 2018, Pease had been prepared for the racial undertones. It was the classism that caught her off guard.
"The thing that has blown me away is that people don't want their kids in school with poor kids," Pease said.
Vickrey has a background in advocacy, working with faith-based groups. She says she's sensitive to buzz words like "values" and how they can be misused. She hears such buzz-words a lot when talking to parents who are opting out of public school. She also hears words like "tuition-free," which, to her, sounds like parents want a private school experience, just without the tuition.
Since the beginning of civilization private education has been the surest way to escape the plebeian masses. Public schools have facilitated that withdrawal too, in their own ways, enabled by the automobile. None of the RootEd founders are San Antonio natives, but they are aware of how white flight created even their own districts. Ironically the same forces that created North East and grew once-rural Northside are now threatening those very districts. Whiter, more affluent, safer options have popped up. Boerne. Comal.
A new force is also shaping the flow of families. Charter schools like Basis and Great Hearts are offering appealing curriculums. Their schools skew more affluent and whiter (or more Asian) than the districts where they reside. Districts, Pease argues, with good schools that just aren't exclusive enough. It's a form of opportunity hoarding, she said.
"I have a great school in my back yard…" Pease said, following the thought process that she believes drives her neighbors to charters, "But I want the one with limited seats."
One telling example, Vickrey said, is Colonies North Elementary, the Northside ISD school that takes on international refugees. The school has a vibrant, multi-cultural student body, strong leadership, and earned State distinctions in post-secondary readiness in the last testing cycle. Still, Vickrey said, you won't see many RootEd yard signs in the neighborhood around it. Many parents are uncomfortable with student population, two-thirds of which are low income, with 41 countries and 36 languages represented. Those students come from several apartment complexes on the west side of I-10. The single family homes around the school, on the east side of the highway, are opting out. Many go to charter schools, she said.
[Side note, because this is my blog: If Northside ISD offered my kids a spot at Colonies North, I'd take it in a heartbeat. I love that school.]
Because families have to find and choose charter schools, the schools have to market themselves, something in which traditional schools are not well-practiced.
That's how RootEd was born. It's whole goal is to share stories, via social media, of the good things happening in San Antonio public schools.
They connect with parents at other schools who then post stories on Facebook, Twitter, and Instagram with hashtags like #RootEdOakMeadow or #RootEdChurchill. It's more spontaneous than the high-level things coming from Go Public, Pease said,"We think it's important that the stories come from parents within that school."
The effort is young, so they haven't had a disaster scenario yet, like an angry parent who uses a RootEd hashtag to blast their school. Only the founders run the official RootEd social media accounts, but if a formerly supportive parent were to change their tune, they hope that it would create an opportunity to show how parents and school administration can work together to solve the problem.
Jeff Jackson, a curriculum director at UT Health, is watching affluent families leave Castle Hills Elementary, where his kids are enrolled. He and his wife, an educator, chose the school for its diversity, he said. Castle Hills goes year round, a calendar innovation largely promoted to benefit low income students. With almost 40 percent of the students receiving free and reduced lunch, Castle Hills is another one of those happily diverse schools.
Jackson loves that his students have exposure to classmates whose lives are different from their own. That, to him, is the "good education" that people keep talking about.
I ask how they would feel, however, if those numbers were even more intense. In San Antonio ISD, Edgewood ISD, South San ISD, Harlandale ISD, and Southside ISD campuses have 85, 90, 95 percent of kids on free and reduced lunch. The highest I've seen in San Antonio is 99.5 percent, at JT Brackenridge Elementary.
At those percentages "happily diverse" becomes concentrated poverty, and things start to change. Schools need more counselors to deal with the trauma of poverty, and they rarely get them. They need teachers who can differentiate lessons across a wider spectrum of academic performance, and those teachers rarely stick around. The stressors of the neighborhoods leak into the schools, despite administrators best efforts.
Parents at these schools may feel more desperate for other options. Explaining to them that racism and classism have shaped our education system, that it was not even designed to educate many of the students it educates today, that it is ill equipped to address the conditions of concentrated poverty…does them no good. If they feel that their child is continually unseen, unchallenged, or unserved, you can't expect them to stick around.
Those parents are why RootEd does not consider itself "anti-school choice" or even "anti-charter school." In fact, the founders plan to engage the 2019 Legislature to advocate additional funding for public schools, and a funding formula that doesn't pit charters and districts against each other. They do want to make sure charters are properly regulated, jumping through all the hoops that traditional schools jump through when they open a new campus.
If things continue on this trajectory, Genevieve Sugalski could get her wish when she says, "RootEd is the job we want to do full time."
Eventually the movement will also have to figure out more sustainable funding as well. The five founders are also the five funders, using their own money to make the yard signs. They want to start raising more money through t-shirt sales and a donations page on their website.
For now, RootEd is a collection of parents who love their schools. As they grow into a movement, the founders realize just how complex the issue is. Not everyone has the same relationship to their home school. For parents in low-performing schools to "become RootEd" will require tough conversations. For now though, the five founders of RootEd are clear-eyed on what they are up against in their own back yard. They don't like the opportunity hoarding they are seeing, and the way it enables some classist discourses to continue.
"We're trying to change this middle class culture that is kind of abusing the system," Vickrey said.