Got anger about DACA? Mayra Juárez-Denis can tell you how to use it.
Got anger about DACA? Mayra Juárez-Denis can tell you how to use it.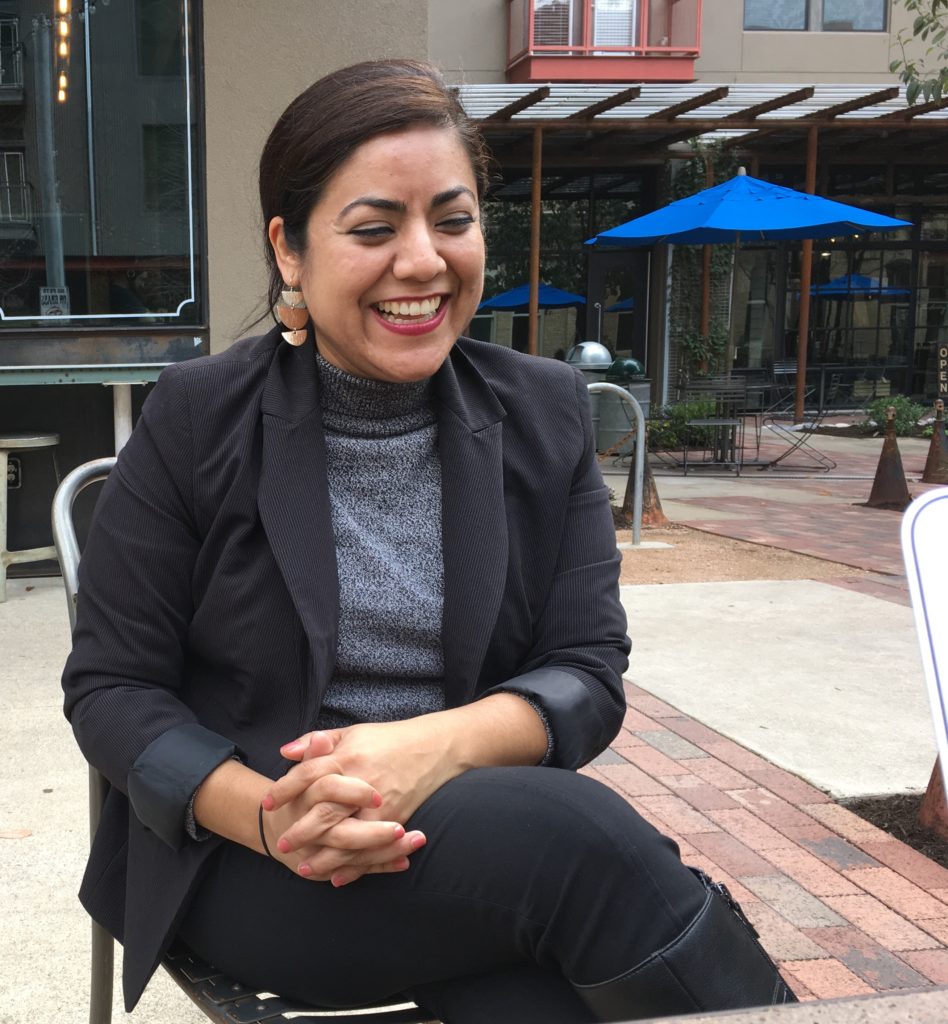 You wouldn't know it to look at her warm and open face, but Mayra Juárez-Denis is angry… and that's a good thing. For her, anger is the right response to the possible end of DACA.
"Every person in San Antonio knows a friend or neighbor who might be affected,"Juárez-Denis said, "That becomes personal."
While the tangled branches of the federal government use the program (and its 800,000 participants) as a bargaining chip for budgets, walls, and other immigration issues, Juárez-Denis is working on a local level to make sure that DACA recipients know where to go for support.
The University of Texas – San Antonio, opened its Dreamers Resource Center in January, and Juarez-Denis hopes that other institutions will follow suit. The resource center offers guidance to help DACA recipients navigate the increasingly complex bureaucracy jeopardizing their increasingly tenuous rights.
Juárez-Denis is a strategic and disciplined organizer who knows the power of institutions to bring about the kind of change she wants to see. To get that done though, she has to use one of her other gifts, "the tool of agitation," as she calls it.
Juárez-Denis's agitation has been a lifetime in the making. Her journey has traversed five countries, and eventually returned to the city of her birth, San Antonio.
In 1980, Juárez-Denis was the youngest of four born to undocumented parents in San Antonio. The family returned to Monterrey where her restauranteur father provided a middle class living for his children—an upbringing neither he nor his wife had enjoyed. Her father had worked from the age of four in the mercado of Monterrey.
"His first words (in English) were, 'shiny, mister?'"Juárez-Denis said.
While they worked weekends in the restaurant business, Juárez-Denis spent time with her uncle, whose path to the middle class was through teaching. He drilled the importance into his niece.
"No importa lo que hagas," he told her, "Tienes que tener una educación."
No matter what you do, you have to get an education.
When she decided that she wanted to go to college, her parents proposed a return to San Antonio, where she had legal status, and could attend college as an American citizen. At 17, she should have been a junior or senior, but Brackenridge High School enrolled her as a freshmen so that she could build the language skills she would need in college.
On her first day in English class, students were taking turns reading from an English-language novel. When it came to Juárez-Denis, the teacher stopped. He handed her a Spanish translation. She read the passage in her native language, demonstrating to the class that she was, in fact, quite literate.
The teacher gave her back the English translation, and told the class that if he heard a single snicker or comment while she learned English, they would be reading from the Spanish translation.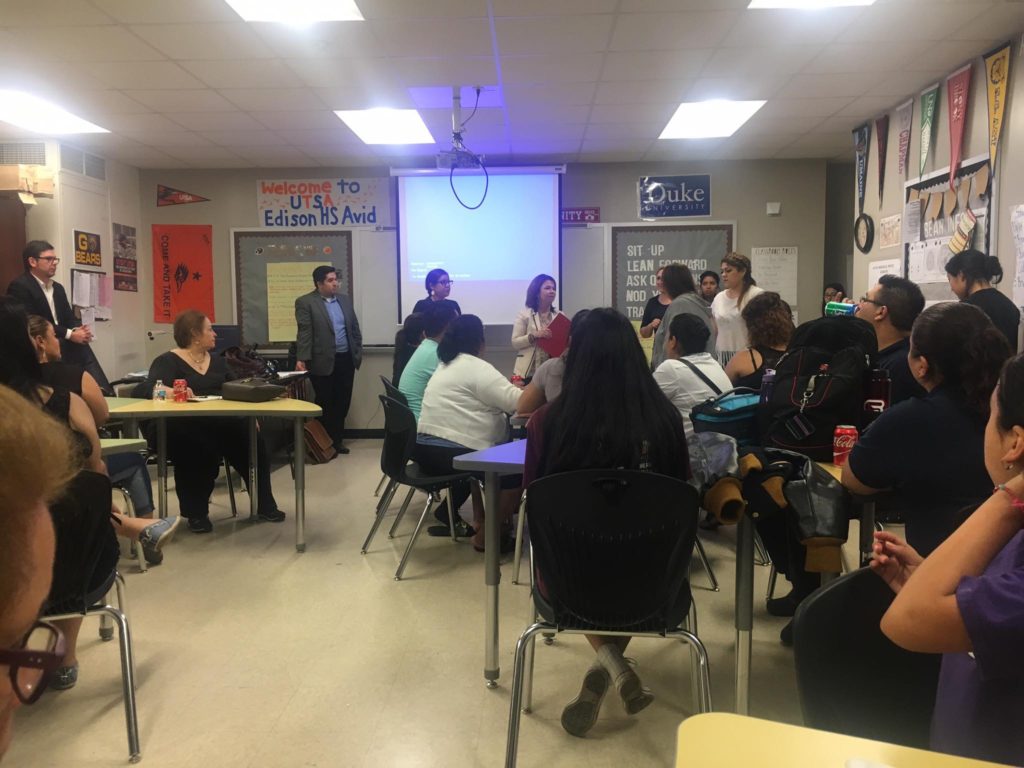 Teachers continued to support her, empower her, and set her on a path to success through the AVID program, which works with motivated students who will need to do extra work to achieve their college goals.
She still recalls that profound day in English class, but it also highlighted one of the strange realities for Juárez-Denis. Few of her classmates, though they were majority Hispanic, spoke English.
"I went into high school not knowing what it meant to be Mexican in Texas," Juárez-Denis said.
After graduating with honors in 2001 and earning automatic acceptance to Texas A&M – College Station, she began to learn why.
She studied psychology…which led to politics…which led to sociology…which led her to Eduardo Bonilla-Silva's class, Sociology of Minorities. Here she learned about the erasure of Mexican culture from classrooms and communities.
She got angry. 
When the U.S. Government moved to make undocumented immigration status a felony offense in 2006, Juárez-Denis joined her first protest in a day of political action across the nation. An activist was born.
When she moved to Europe with her husband, Juárez-Denis experienced some unexpected psychological relief. Being Mexican in Europe was not the same as being Mexican in Texas. Europe has its own problematic relationship with certain populations, but for Juárez-Denis, to be out from under the microscope was revelatory. It freed her up to exercise more agency, explore more ways of engaging society.
Then, in 2014 a group of 43 politically active students from a teachers college were disappeared in Mexico. Protests erupted at several embassies around the world, including Brussels, where Juárez-Denis was living. The protestors, who called themselves "Belgicanos" asked the Belgian government to use its substantial trade relationship with Mexico to pressure the government, whom they suspected to be complicit in the disappearances.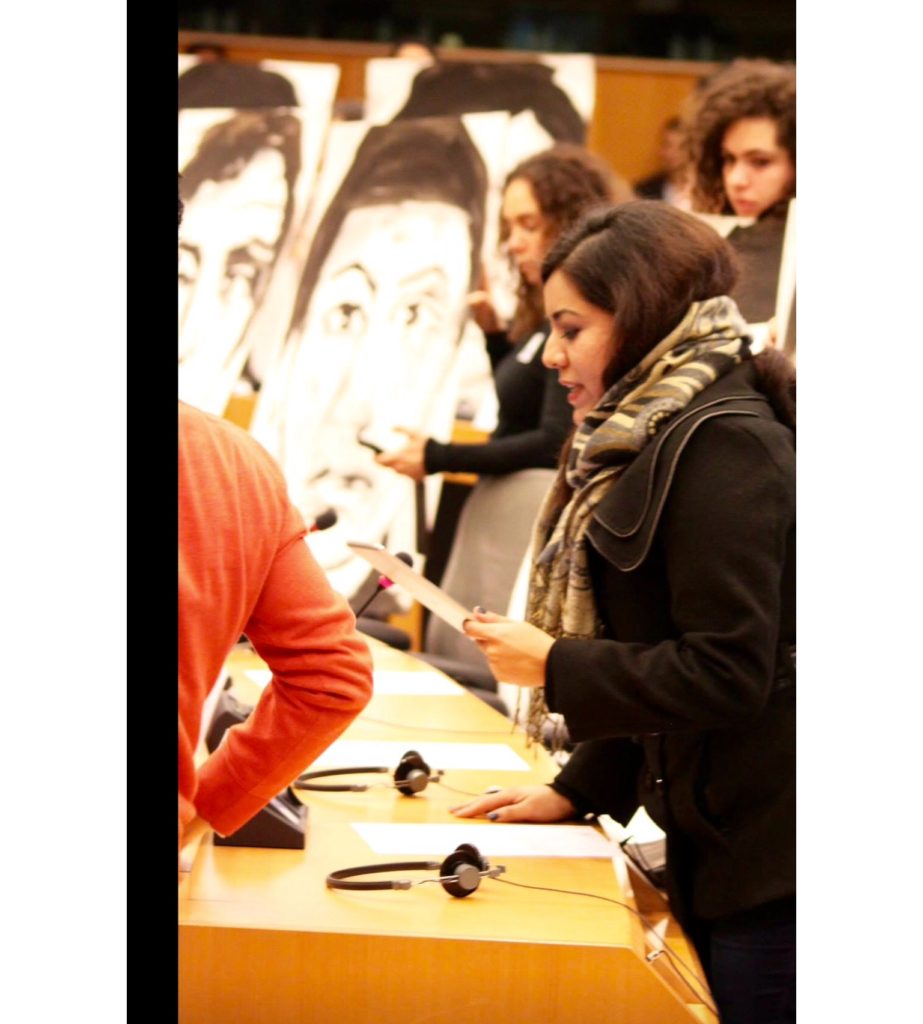 The Belgicanos were eventually welcomed into the embassy. From there though, Juárez-Denis recalled, progress stalled when the leader of the protest stormed out of the meeting, angry at what the protestors saw as cynical disregard by the Mexican ambassador.
Juárez-Denis saw it as a missed opportunity, and began to think strategically of how to engage institutions who have the ability to act.
Those thoughts turned into action when she returned to Texas and began working with COPS-METRO in 2016. She learned how a community can organize to match the power of an institution, and engage the institution on equal footing, not so easily dismissed.
"That was the first time I felt power as a citizen,"Juárez-Denis said, work can get done through institutions, "not just one person trying to save the world."
So much of organizing is listening, she said. That's a principle often echoed by H. Drew Galloway, executive director of MOVE San Antonio, a youth organizing group: young, poor, and marginalized people know what they need, they don't need to be told. Organizing helps them take a grassroots priority and vault it to the ears of those in the tower.
Too often, Juárez-Denis said, those wanting to help operate in the same spheres are those in power. So the agenda is set by those with money to spend or power to wield, not by the people who will be affected. Because of the way grants are allocated, many nonprofits have missions too narrow to address the messy needs of a whole community.
The real problem with this top-down approach to change is accountability, she said. People are just too cozy. 
"The circle starts becoming small,"Juárez-Denis said, "How are you going to tell them, 'You need to do more on this,' if they are your buddies?"
In 2017 Juárez-Denis became the director of Leadership for Educational Equity (LEE) a nonprofit associated with Teach for America. LEE's first San Antonio cohort spawned SA Rise, an organizing group focused on public education.
In this role, Juárez-Denis has been able to hone her skills agitating in the background and within institutions. So when Trump announced his DACA repeal, she felt the anger at the injustice, and knew exactly what to do.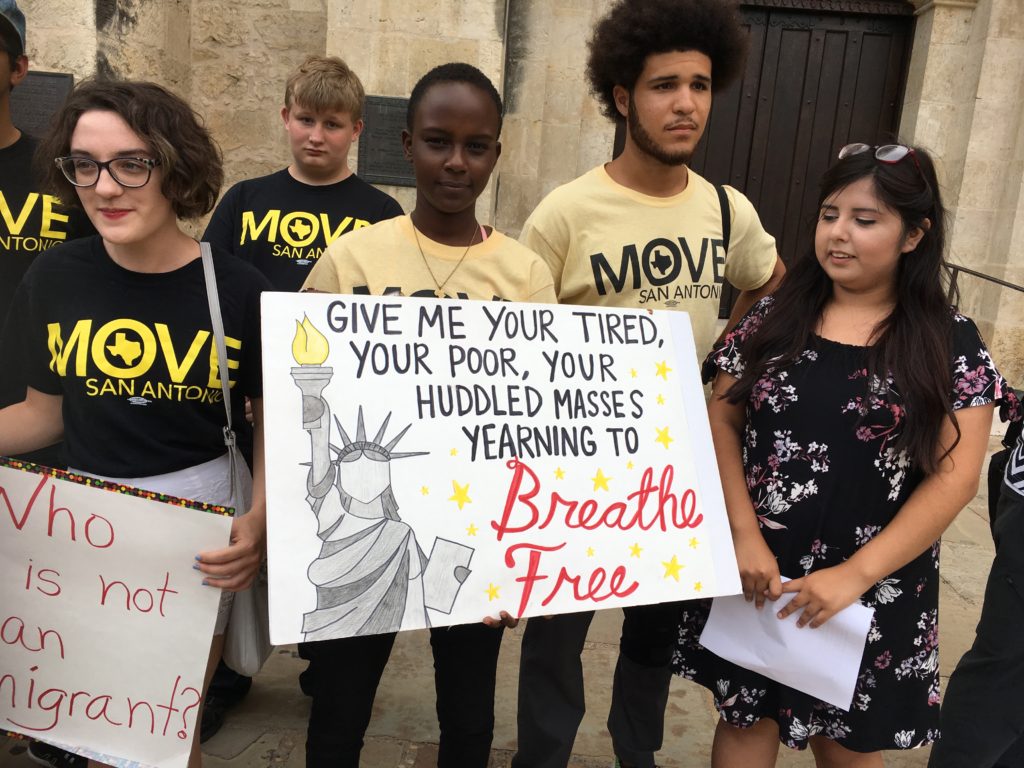 "I know people have been working on this already," Juárez-Denis said. She went to the universities where work was underway. While institutional change is slow, it does gain momentum. Once one institution, such as UTSA, takes action, it makes it that much easier for the next and the next. Juárez-Denis is keeping watch over that momentum, visiting colleges as the physical manifestation of community angst. That angst is not going to go away with lip service and emotional solidarity either, she said, it merits action. She wants to see resources and protections in place.
Meanwhile, the DREAMers continue to call for legislative action, and legislators continue to horse trade with their future. While they do that, local organizers are working overtime with student groups, Catholic Charities, RAICES, the Interfaith Welcome Coalition. 
"I do feel helpless sometimes, but what brings me back to my anger, that energy, (is the belief that) things can happen…"Juárez-Denis said, "Change can happen."