Eleven artists make Texas history at Southwest School of Art
Eleven artists make Texas history at Southwest School of Art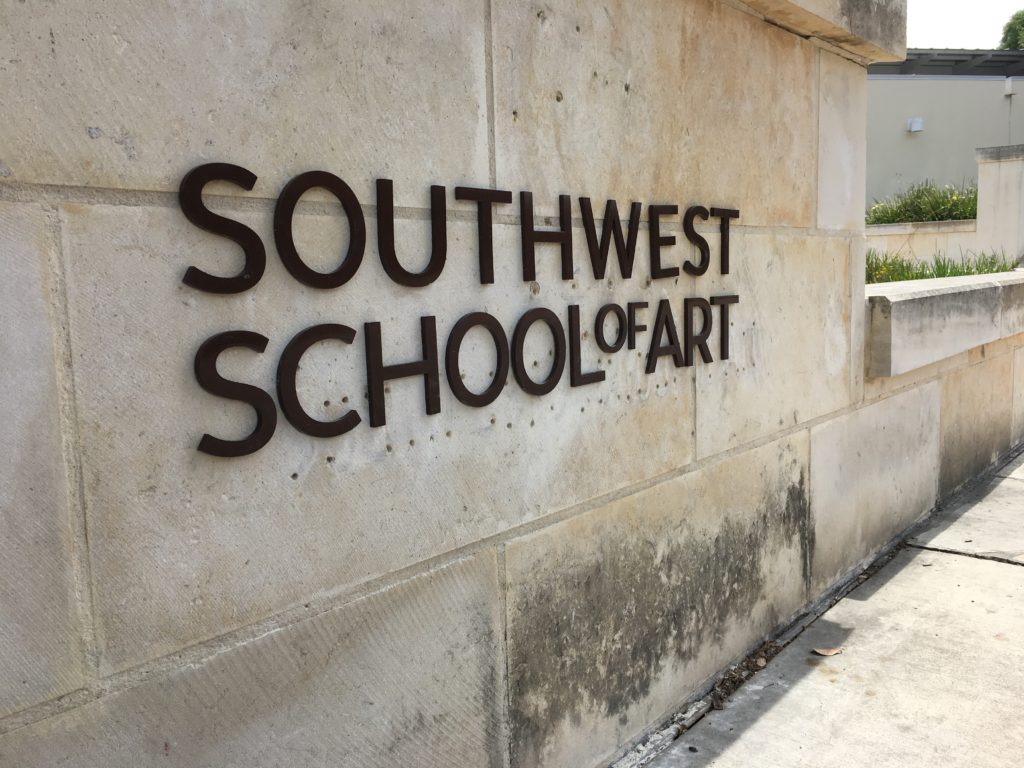 Graduates of Texas' first independent college of fine arts walked across the courtyard of the Southwest School of Art on Sunday afternoon to receive their BFA degrees. The ceremony was partially shaded by rustling trees on what could have been a warmer San Antonio spring afternoon. With little pomp and circumstance they entered to jazz, filing in behind a banner with a guinea pig (or perhaps a hamster?) on it. However, they were likely thankful for the mild weather and breeze, as the class opted to wear traditional black caps and gowns. As the first graduating class of SSA's bachelor's degree program, the 11 graduates could have chosen less expected regalia, but their nod to tradition signaled the seriousness of their accomplishment and their aims.
"You are artists at a critical time in history," fellow artist Dario Robleto said in the commencement address. Never before, he said, has civilization stood at the cusp of so much discovery, or needed so much curiosity and boldness to step into that future.
Truth— and the pursuit of it— is having a peculiar cultural and political moment. While "art necessarily complicates truth," Robleto said, it is born of the same stuff—inquiry, free thought, and curiosity.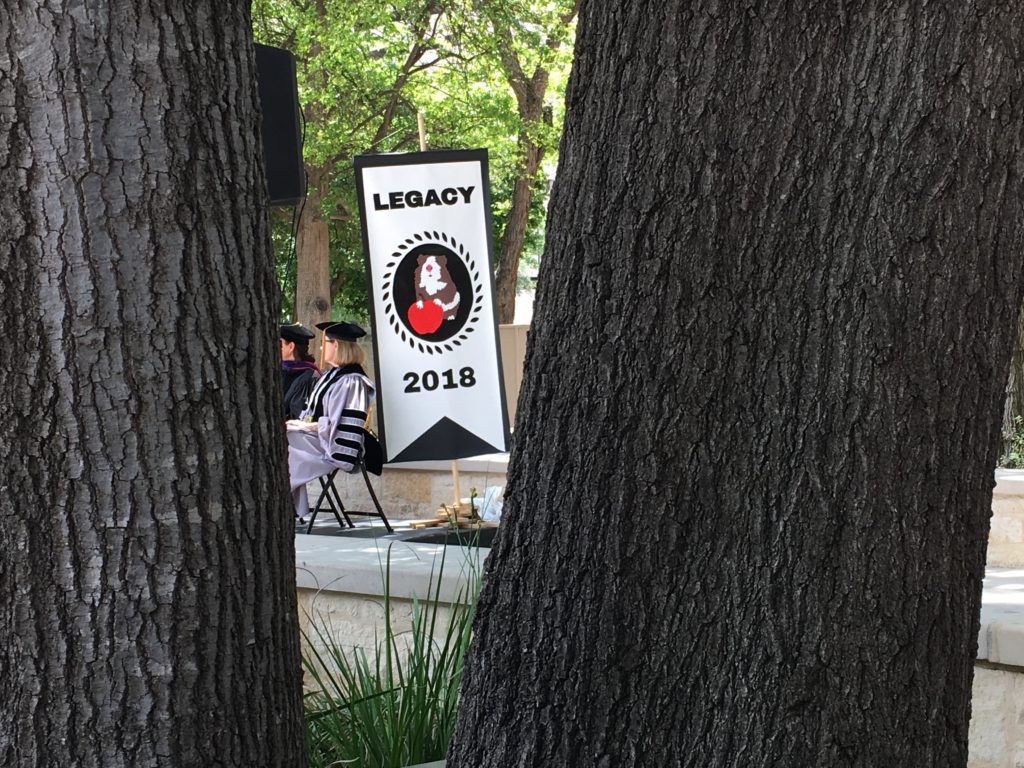 These graduates, SSA president Paula Owen said, have already demonstrated the "vein of courage" that pulses in the artistic spirit, the willingness to take risks, to try the untried. 
"To be first requires an exceptional backbone," Owen said, "Certainly the first person who ate a raw oyster was a risk-taker."
In this way, the ceremonials for an art school differ from the inspirational high notes of their university and liberal arts neighbors. No one here, not the students and not their teachers, spoke of the fame and fortune that awaits. They spoke of the courage, the struggle, and the place of perseverance where these artists would live their professional, emotional, and often financial lives.
"You should be under no illusions about the life that lies ahead of you," Robleto said. Challenging at the best of times, the life of the artist seems to require a certain amount of suffering—it feeds on it. Those are the times, Robleto said, the graduates will have to reach inside themselves and find an intrinsic motive to create. Whatever well-deserved spotlights they stumble through will be too fleeting to sustain a life's work. It had to come from within, he said.
Sharing that work, added poet Marisol Cortez, "takes ganas." In an age of constant sharing via social media, Cortez's poem,
"Meditation on Creation Part I: an open letter never shared with my friends on Facebook" cut to the heart of many artists' anxiety. How does one avoid the exhibitionism of our age in a career that lives and dies in exhibits and exhibitions?
Sharing from an authentic place is uncomfortable, Cortez explained.
However, graduate Audrey LeGalley says she is ready to be uncomfortable. The professors at SSA helped her and her classmates grow accustomed to "just the right amount of comfort and discomfort," she said, "I'm sad to be leaving this school, but I'm not ill-prepared."
LeGalley's senior thesis, a series of porcelain sculptures of everyday household objects, won "best in show" for the class's senior thesis exhibition ALL THAT REMAINS.
"I focus on shared household spaces, closets and objects that are intended to interact with the whole family. I specifically am interested in structures that are designed to hold weight. Chairs, shelving and brackets seem like mundane, commonplace things. In making them out of a fragile and precious material I introduce a dialogue about trust, expectations and safety within domestic relationships," LeGalley writes in her artist's statement.
The 5-foot-nothing ceramics artist took a break from installing her show earlier in the week to tell me about her journey into a fine arts career.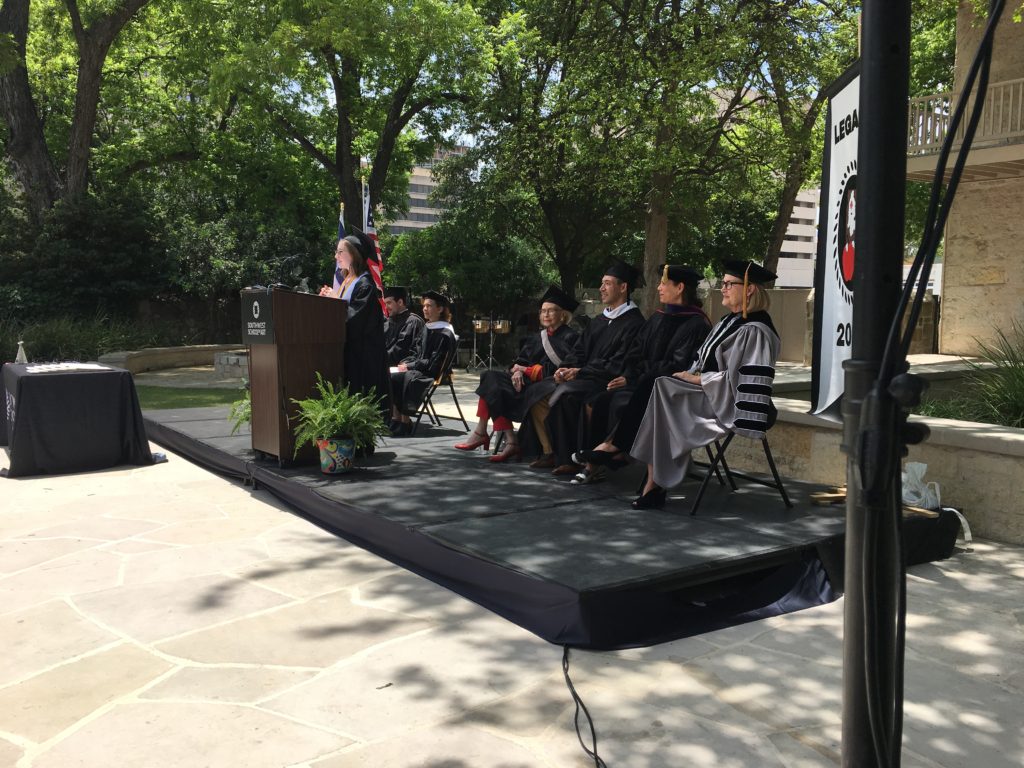 At Boerne High School, LeGalley was a talented painter. She enjoyed her art class, showed promise, and wandered into college with not much more than that. She just wanted to be an artist.
"I really didn't understand what that entailed until spending some time here at the Southwest School of Art," LeGalley said.
In her commencement address LeGalley said that the professors at SSA taught the students "how to be confident in your work, and how to hustle."
And hustle she does. LeGalley has a line of porcelain objects she currently sells. She'll be teaching community classes at SSA this summer, and applying to MFA programs. She's beginning the artists' life of community, galleries, showing, shipping, and taxes—none of which she fully understood before SSA.
Having a bachelor's degree is valuable to LeGalley, and being able to take math and writing classes designed for artists—the way they think and the way they will need to think—enhanced her experience, she said. 
Before the ceremony ended, another classmate—the youngest of the graduates in fact—won an award made all the more poignant by the woman who presented it.
Ethan Gonzalez won the inaugural Edith McAllister Prize in recognition of excellence across his body of work. Edith McAllister, age 100, presented the award herself. McAllister is one of the founders of the Southwest School of Art, which for over 50 years has provided community art classes. The beloved community classes and visiting exhibitions continue as critical to the school's mission, giving inspiration to many, including a young Dario Robleto.
Its transition to fully accredited BFA program and the 2018 graduates, Mayor Ron Nirenberg remarked earlier in the ceremony, are fitting illustrations of how history gives way to future—as the Tricentennial continually reminds us.
Mindful of those in the sun, or perhaps just not much for gilding the proverbial lily, neither Gonzalez, nor McAllister said much after Owen announced the special prize. Gonzalez gave a sincere thanks. McAllister was more impish. 
"Paula says I can't talk because she's known me for years and she knows that if I have a microphone and an audience you'll never get out of here."
She then sat, and the crowd stood to cheer her legacy.