Bill Davis, teacher and explorer, wanted to show students "how great a world we have."
Bill Davis, teacher and explorer, wanted to show students "how great a world we have."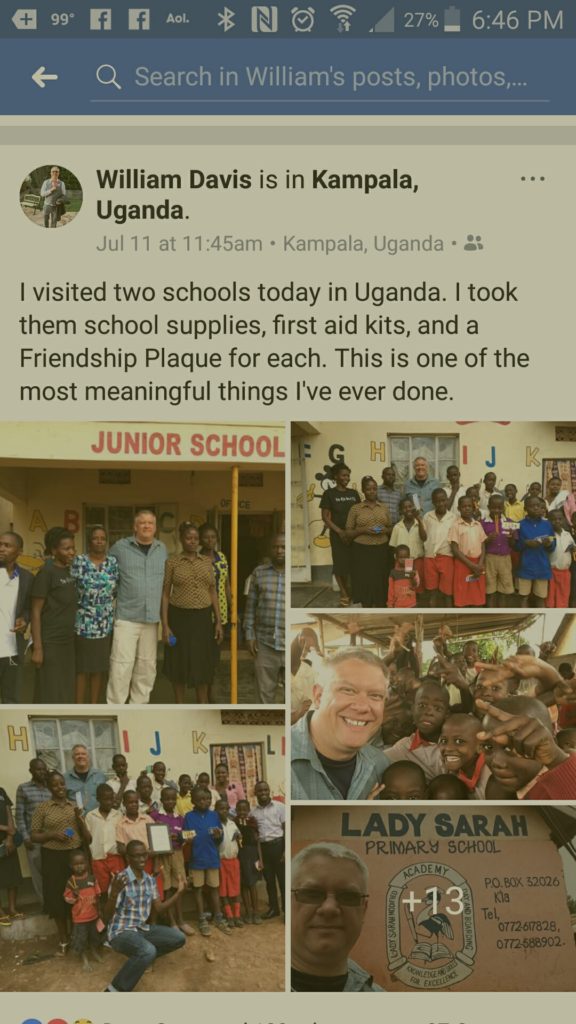 When talking about William "Bill" Davis, friends and family laugh as much as they cry. Even while friends and family are mourning the loss of Davis, 47, who was killed Tuesday in an apparent car accident while traveling in Uganda, they recall stories that make them laugh.
"He was a funny, goofy person, and oh my god, clumsy," said his ex-wife, Viviana Davis. She recalled numerous misadventures traveling with Bill, an avid adventurer. The time he knocked over a mannequin in a fancy New York City shop, or the time he tore his pants climbing over a wall in Washington D.C. That anecdote, in particular, showed his character, Viviana said. "He always wanted to see what was on the other side of the wall." 
He approached San Antonio with the same spirit of exploration, taking his daughter to the Toilet Seat Museum in Alamo Heights, and writing about interesting buildings around town.
"He wanted everybody to just know how great a world we have," Viviana said.
Bill wanted to pass that curiosity on to his students as well. He taught at Rhodes Middle School for 23 years, his entire career, and helped found the school's technology program. Viviana teaches kindergarten at DeZavala Elementary, which feeds into Rhodes. They taught many of the same kids over the years, she said. The schools serve neighborhoods with extremely high poverty, and Bill knew that many of his kids would never get to travel the way that he was able to.
"Some of out students don't even know where the Alamo is," Viviana said, he wanted kids to know "there's more out there." 
That's what led Bill to enroll his students in a pen pal program with Lady Sarah Primary School in Kampala, Uganda. He delivered the last batch of letters in person on Monday, along with school supplies, first aid kits, and a Friendship plaque. On July 11 he posted to Facebook that the visit was "one of the most meaningful things I've ever done."
The next day he was headed to the Ssese Islands, a popular tourist destination on Lake Victoria, the accident reportedly occurred en route to the lake.
The embassy attempted to contact Viviana on Thursday afternoon, and reached her around 1 a.m. on Friday morning. They had few details about the death, and little more could be gleaned from local media in Kampala. Reports say police are looking for three men left the body at the hospital and "fled."
[Expats and Ugandan citizens told me that this is very common, because often Good Samaritans get caught up in haphazard arrests when they are trying to help. Drivers involved in collisions are required to leave the scene and report immediately to police to prevent mobs from forming in retribution, as has happened in the past. With no known witnesses, and no word from Kampala City Trekkers, the tour company that owned the vehicle he was said to be driving, it could be difficult for the family to get get definitive answers as to how the accident occurred.]
While he was "clumsy," Viviana said, he was a meticulous driver, which makes his death even more confounding. Viviana and her fiancé, James Rodriguez, have vowed to continue pressing for answers. Despite what could have been a tense situation, with Rodriguez being engaged to Bill's ex-wife, Rodriguez said that the two were close, a testament to Bill's character. "He was a one of a kind," Rodriguez said.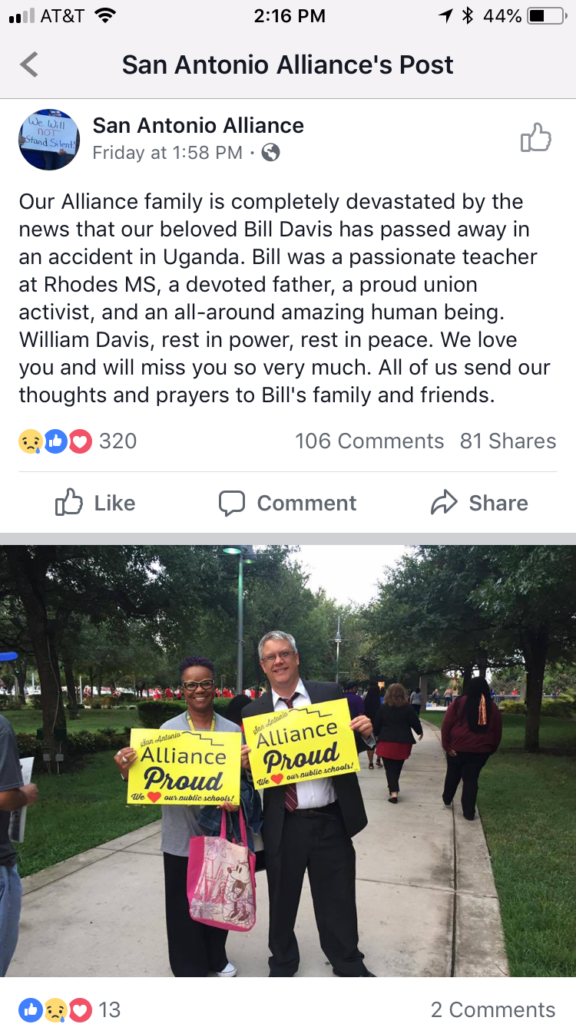 Bill was also active in the San Antonio Alliance of Teachers and Support Personnel, the district's union. He was a facilitator for the Alliance's professional development course for new teachers. Colleagues have begun a petition to have the technology building at Rhodes named in his honor. Having been there for over two decades, Bill was something of an institution, a remarkable statement considering teacher turnover rates in high poverty schools.
"There are a lot of teachers moving from school to school. He wanted to stay there," Viviana said. 
Reaction on social media bares testimony to the importance of teachers like Bill in the lives of his students and colleagues. Posts from Rhodes teachers, students, and alumni celebrate his mentorship, taste in music, love of  life, and sense of humor. Mostly, though, they celebrate his generosity. One former student, Lennon Maldonado posted about how Bill had continued to support him into his filmmaking career, which began in Bill's technology classroom.
"Bill truly marked the path I've taken so far, and helped me grow at the age when I was deciding what to do with the rest of my life," Maldonado wrote.
"Bill embodied what it means to really 'love your neighbor' and made Rhodes feel like a family," teacher Nathalie Harper wrote.
Of course, the loss will be felt most profoundly by his children, Andrea Davis, 17, and Tessa Case, 7. Andrea sent a written statement through her mother that began with the one line every parent longs to hear: "My dad was the best dad a daughter could ever hope for."